Roundtable discusses higher education under Trump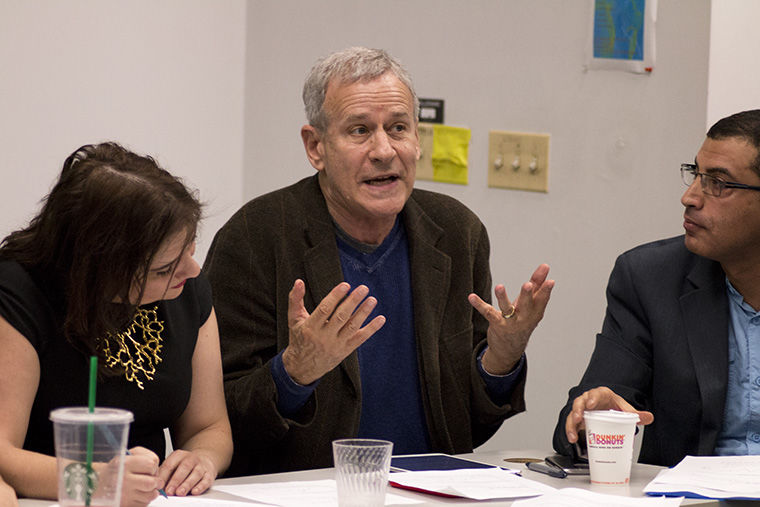 Education professionals from Columbia, the University of Illinois at Chicago and the University of Chicago discussed the potential effects of Donald Trump's presidency on higher education and how to find possible solutions.
Jaafar Aksikas, an associate professor in the Humanities, History & Social Sciences Department, with the help of students in his "Methods of Inquiry in Cultural Studies" course, organized "The University in the Era of Trump" roundtable event, held Nov. 29 in the 624 S. Michigan Ave. Building.
Aksikas called for free higher education, a public good that he was surprised did not receive mainstream popularity until this year's presidential election.
Aksikas also discussed the threat of capitalism to higher education and said students are currently facing increased obstacles in college, citing student debt, student employment and the privatization of university functions, such as security, parking and housing.
"[College] has clearly been attacked by virtue of some of the ideologies, policies and modes of governance that we see emerging out of this very specific neoliberal conjuncture," Aksikas said.
Walter Benn Michaels, professor and head of the English Department at UIC and panelist, observed that higher education is in a precarious position.
"I have no doubt that, in certain respects, for example the destruction of faculty unions and the increased privatizations of public universities, the Trump administration will make things much worse," Michaels said.
Stephanie Frank, a lecturer in the HHSS Department, said she opened her classes to discussions the day after Trump won. Frank said she asked a student who supported Trump to put himself in the place of others who expressed concern over Trump's presidency. This kind of empathy, she said, is important for educators to model and encourage.
Anna Kornbluh, an associate professor in UIC's English Department, described universities as a venue for collective studying, which faculty and administration should defend.
"To more directly embrace this vision of the university, to defend militantly this form, faculty and administration must immediately expand their job descriptions," Kornbluh said. "We must advocate on every available platform for institutions. We must support students, student struggles and especially student organizing for asylum, for living wages, for debt strike, for justice beyond the classroom in every fathomable way. It's our job."
Sami Berk, a sophomore cultural studies and journalism double major, said she was impressed and enlightened after hearing from the panelists.
"[These discussions] never cease to exceed my expectations as a student of cultural studies, as well as a politically progressive thinker and a critical thinker," Berk said.
Intergenerational dialogue is important because it allows students to learn from others who may be more experienced in their field, Berk said.
"This is a very rare opportunity that I hope becomes less rare," Berk said. "We can learn from people who have consumed and broken down the things that we barely wrap our minds around with a level of expertise that is now tangible for me."