Shane Tolentino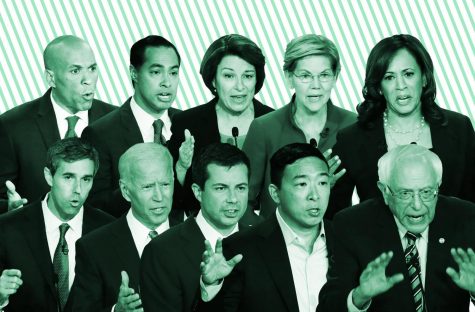 After members of the Democratic National Committee voted against holding a debate between 2020 presidential candidates dedicated to the climate crisis, 10 frontrunners participated in a town hall on the topic.
The Wednesday event, hosted by CNN, featured: Sen. Bernie Sanders (I-Vt.); former Secretary of Urban Housing and Development Julián Castro; businessman Andrew Yang; Sen. Kamala Harris (D-Calif.); Sen. Amy Klobuchar (D-Minn.); former Vice President Joe Biden; South Bend, Indiana, Mayor Pete Buttigieg; former Congressman Beto O'Rourke (D-Texas); Sen. Cory Booker (D-N.J.); and Sen. Elizabeth Warren (D-Mass.).
The candidates were each given 40 minute segments to answer questions from audience members on the climate crisis, with questions ranging from carbon tax implementation to nuclear energy replacements of fossil fuels.
The town hall comes as numerous parts of the globe are on fire, including the Amazon rainforest, and as regions of the U.S. prepare for the devastating effects of Hurricane Dorian. At the same time, the United Nations warns that the world has until 2030—just 11 years—before the global temperature surpasses a tipping point, causing global warming to become irreversible.
Most of the candidates agree the first step in facing the climate crisis, upon taking office, would be to reverse environmental policy rollbacks implemented under the Trump Administration. Sanders' response on whether to enact reversals: "Duh!" These efforts would include reentering the Paris Climate Agreement, protecting endangered animal species and lowering the amount of greenhouse gases produced by corporations.
However, nearly every candidate has a different solution for how to lead a significant attack on the climate crisis by 2030. Almost all of the candidates have faced criticism for past records contrary to environmental sustainability, namely Buttigieg who defended his campaign's use of private planes; Biden for his plans to attend a fundraiser hosted by Andrew Goldman, who is linked to the fossil fuel industry, the Thursday after the climate crisis town hall; and Castro for his record of supporting fracking when he was mayor of San Antonio.
Here are 10 solutions proposed by the candidates during the town hall:
No. 1: Sanders on birth control
Perhaps the most extreme proposal of the night came from Sanders, who said he would curb population growth as a method to reduce the amount of waste and greenhouse gases produced by individuals.
By providing women access to birth control and abortions, and thereby lowering the already high U.S. population growth, roughly 63 tons of carbon would be saved from contributing to global warming each year, as well as nearly 3.5 million tons of waste from diapers.
No. 2: Harris on plastic
Harris called for an ultimate ban on plastic, with a specific emphasis on plastic straws, instead favoring paper straws. Some estimates put the number of plastic straws in the ocean at 7.5 million, which not only pollutes the environment but endangers ocean wildlife as well.
No. 3: Yang on money
Despite many Democratic candidates calling for a tax on carbon emissions, Yang was one of the few to put a price tag on it. Yang proposed carbon taxes for corporations starting at $40 per ton and eventually reachingup to $100 per ton.
Yang also said the billions in subsidies the government pays to fossil fuel industries should be redirected to clean energy production, sustainable farming and environmental research.
"The trap that Democrats are in is we are being told that moving toward a green economy is bad for jobs and bad for business, and that could not be further from the truth," he said. "We cannot fall into this false dichotomy that what is good for the economy is bad for the planet."
No. 4: O'Rourke on cap-and-trade
Rather than endorsing carbon taxes, O'Rourke called for cap-and-trade to offset carbon emissions—a wildly unpopular proposal that died in the U.S. Senate in 2010, and caused Oregonian Republicans to flee the state in June to avoid voting on a state cap-and-trade bill.
Cap-and-trade caps the amount of carbon emissions corporations are allowed to produce, then slowly lowers the cap over a time period. Corporations unable to meet the limit can buy, or trade, with other low-carbon-producing corporations to offset any spillover.
No. 5: Buttigieg on faith-based call-to-action
Buttigieg recognized that a large portion of the population does not believe in the scientifically-proven climate crisis, including President Donald Trump who tweeted numerous false claims concerning the climate during the town hall. In response, Buttigieg called for a faith-based conversation to take place in regards to the climate crisis.
"If you believe that God is watching as poison is being belched into the air of creation, and people are being harmed by it, countries are at risk in low-lying areas— what do you suppose God thinks of that?" he said. "I bet [God] thinks it is messed up."
No. 6: Warren on fossil fuel industry
For Warren, true impact on the climate crisis will come most directly from eliminations of the fossil fuel industries. She proposed a carbon-free building industry by 2028, carbon-free cars by 2030 and carbon-free energy by 2035.
"Seventy percent of the pollution from the carbon that we're throwing into the air comes from three industries and we can set our targets and say by 2028, 2030 and 2035, no more" she said.
No. 7: Klobuchar on competition
Klobuchar, who took on one of the most moderate responses to the climate crisis during the town hall, proposed incentivizing individuals to reduce their energy use by sending electric bills with neighborhood rankings so neighbors can compete to conserve the most energy.
No. 8: Castro on environmental racism
A major aspect of Castro's climate plan addresses "environmental racism" as low-income communities face the extreme physical effects of the crisis, not only with a lack of resources for natural disasters, but with a disproportionate job loss from restrictions on fossil fuel industries.
"I connect the dots to places like Flint, Michigan, and I know that often times it is people that are poor, communities of color, who take the brunt of storms that are getting more frequent and more powerful," Castro said.
No. 9: Booker on meat industry
As a longtime vegan, Booker said he will not restrict Americans from eating what they want, but said he would stop subsidizing factory farms that are one of the leading causes of pollution, global warming and deforestation.
No. 10: Biden on global collaboration
Many voters, especially young voters, are concerned Biden would take a back-burner approach to the climate crisis, with one 19-year-old activist asking Biden whether younger generations can trust him after older generations have "repeatedly [chosen] money and power over our lives and our futures."
Biden said he would not take an "empty chair" approach to the climate crisis, a dig at Trump who recently skipped a Group of 7, or G7, summit of international governments, including France and Canada, to discuss providing assistance to countries affected by the Amazon fires.
"There would be no empty chair," Biden said. "I would be pulling the G7 together. I would be down with the president of Brazil saying enough is enough."