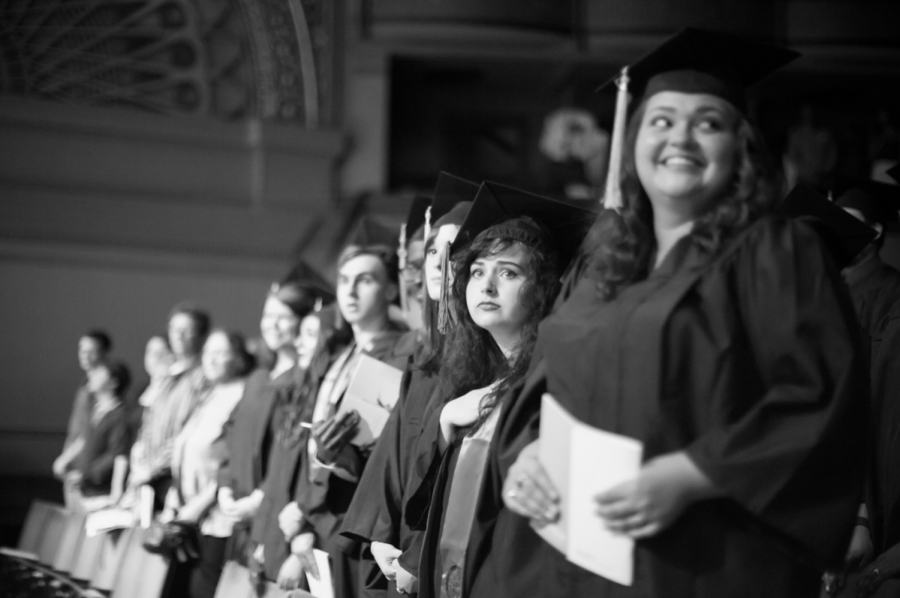 Courtesy Columbia College Chicago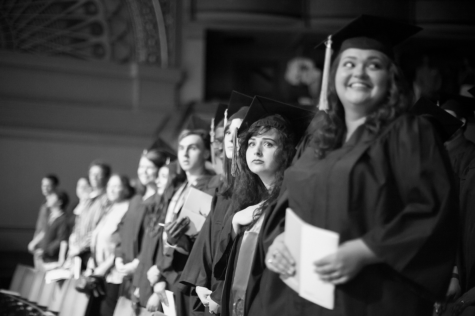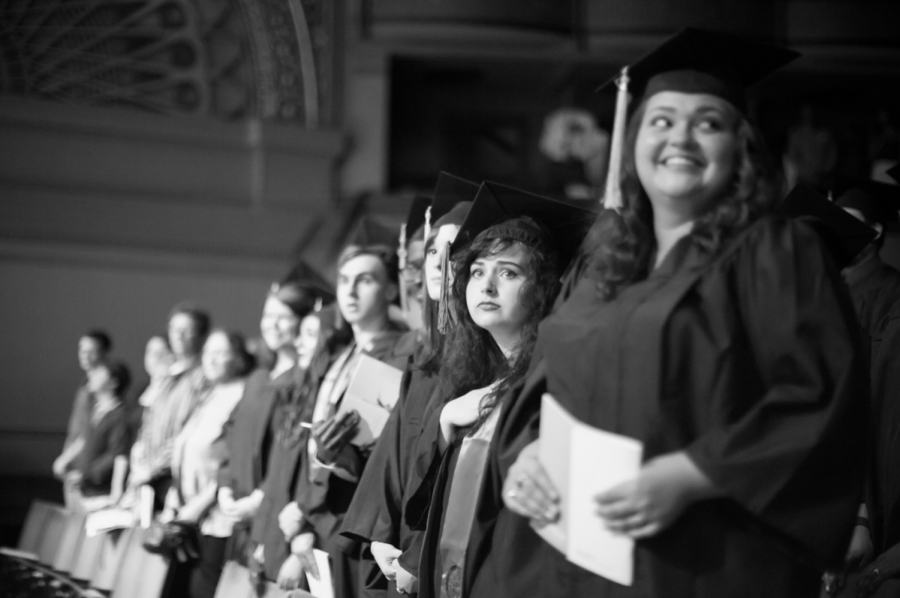 Updated 03/24/2020 at 8:30 p.m. with additional comments from Lambrini Lukidis on graduation fees and the college's decision to cancel commencement. 
President and CEO Kwang-Wu Kim announcing the cancellation of the May commencement ceremony was the last straw for Victor Froiman.
"First, classes went online, then we had to move out of campus," said Froiman, a senior cinema art and science major from Brazil. "It's easy to say how they 'regret to inform,' but they didn't even bother giving us options."
When Froiman received the Monday, March 23 email announcement from Kim, he was struck by the "complete disregard" for commencement, as if it were "just any other event" being canceled. Instead, he wanted students to have some sort of stake in the decision, such as college officials asking graduating seniors if they'd prefer the ceremony to be postponed to a later date.
So, Froiman texted his friends, penned an open letter and posted a Change.org petition to pressure the school into postponing the ceremony less than three hours after the announcement.
A few hours after the petition went live, it had already amassed hundreds of signatures to reach its original goal of 1,500 and was widely circulated among the Columbia community on social media. As of press time, the goal was bumped up and the petition had 2,521 signatures, with dozens of comments from first-generation graduates, international students, parents and aunts pleading for the college to postpone, rather than cancel it entirely.
Columbia is not the first higher education institution to have its graduation ceremony impacted by the coronavirus, or COVID-19, joining a growing list that includes the University of Michigan, the University of Illinois and the University of Southern California.
But seniors around the country aren't swallowing their administrations' decisions, either.
At the University of Maine—which has yet to announce a final decision on whether its ceremony will occur—students arranged an impromptu "Coronamencement" after the university announced classes would transition online. The university's vice president for student life and dean of students attended the event and delivered what was dubbed by the university's student newspaper as an "emotional" speech. Students also elbow-bumped as they walked across the makeshift stage to receive their honorary diplomas rather than shaking hands, as reported March 14 by student newspaper Maine Campus.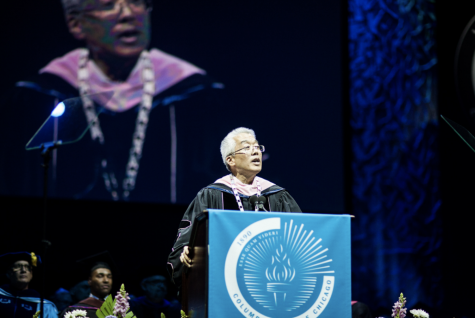 At the University of California, Los Angeles, the chancellor was forced to reverse the university's earlier decision to hold their commencement ceremony online after backlash from the student body demanding a postponement instead of a virtual ceremony. This prompted the university to send a survey to seniors asking how commencement should be held, as reported Thursday, March 19 by UCLA's student newspaper the Daily Bruin.
"Canceling commencement is letting this pandemic defeat us," Froiman said. "Postponing represents the hope that this situation will be over soon. Our undergraduate cycle will not feel complete without commencement. Better late than never."
Lambrini Lukidis, associate vice president of Strategic Communications and External Relations, said the college is aware of the petition but will not likely reverse the decision. Lukidis said the full $175 total graduation fee for individuals will be refunded in light of the current circumstances.
Lukidis said the "difficult" decision to cancel commencement also took into account the impracticability of having dozens of employees and students working in the weeks beforehand to organize a large event, in addition to concerns of "facilitating and possibly re-igniting contagion," she said.
"In addition, curbs and complications associated with travel further complicate any planning for families. In short, there simply is too much uncertainty to plan any commencement at this time, hence our decision to cancel rather than postpone these events," Lukidis said. "We will continue to monitor the pandemic and complications associated with it, and should circumstances and our assessment change, we will of course share that with the campus community. We understand and share everyone's disappointment, but this remains a very fluid situation beyond our control."
Six people set to be honored for emeritus appointments during commencement will be honored during the May 2021 commencement ceremony instead, according to an email sent to honorees by Senior Vice President and Provost Marcella David.
Ari Ganahl, a senior illustration major, told their family not to plan on flying to Chicago from Colorado for commencement right after campus closed because they didn't want to risk their health—especially their mother's, who is immunocompromised. Their grandparents were disappointed.
"Regardless of having this milestone taken away, it was an excuse for a lot of us to show our families Chicago, and that sure as hell is not happening anymore because no one wants to get on a plane or ask their family to," Ganahl said. "Columbia is doing this because they have to, and it f—ing sucks. I wish we could just acknowledge that it sucks instead of trying to [find solutions]. What else could we expect, though; they canceled the Olympics, we're not allowed to leave our apartment, no s–t we're not having graduation."
Although Ganahl wants the graduation fee refunded, they said it was also not comparable to the thousands of dollars students are spending on facilities and resources at the college that are now inaccessible.
Although there is no clear-cut solution, Ganahl does want more transparency and consistency from the college going forward rather than "announce a decision, then announce several different decisions days after that."
Jade Moreno, a senior acting major, also feels "at the mercy" of the next email from the college.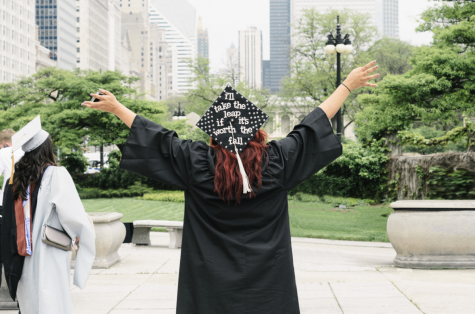 Dealing with the blows from adjustments the college has been forced to make due to the coronavirus, Moreno said she has been trying to remember her privileges, too. But when the announcement of commencement's cancellation came, she could not help but cry.
"Hopeless and heartbroken, I feel like I'm just helpless," said Moreno, whose Texas-based family had big plans to attend her commencement because she is the first person in her family to go to college, let alone graduate.
Froiman was particularly looking forward to commencement because it would be the first time he has seen his friends in Chicago for more than a year. Last fall, he participated in a semester abroad program in Tel Aviv, Israel. This spring, he was enrolled in the Semester in L.A. program.
When the college announced SiLA courses would be moved online, he decided to book a ticket home to Brazil for the next day before the coronavirus outbreak further escalated. He made the right decision because by the time he got to Brazil, SiLA announced students had to move out of housing and flights to Brazil became few and far between.
Froiman's entire family had planned on coming from Brazil to watch him walk across the stage as a graduate. If the ceremony is postponed, he said they are still up for visiting Chicago.
"Getting me through college in the U.S. was financially challenging for my parents and, for me, adapting to a new country was not easy, particularly in the beginning," Froiman said. "Commencement is the podium we all deserve for overcoming these adversities."
Additional reporting by Shane Tolentino and Blaise Mesa.
The Chronicle wants to hear how the commencement's cancellation is affecting you. Send us a letter to the editor here.