Steven Nunez
When the price of ticket admission, accommodations and food are added up, attending Lollapalooza requires a large chunk of money—some say too much.
According to the Lollapalooza website, ticket prices can range from $138 one-day general admission to $4,326 four-day platinum admission. And that does not include housing, food or water.
Both social and mainstream media, including the Chicago Tribune, reported fans knocking down gates Friday and Saturday to enter the music festival. It was not clear if they were motivated by the ticket prices.
Gabriel Adeo, 24, from Brazil, decided to attend the festival for only one day while in Chicago for work. Adeo said he often attends the festival when it occurs in Brazil where, for him, it is more worth the money due to the better-known, localized lineup.
"[Lollapalooza] brings things in a different way, not only the name of the brand," Adeo said. "It's an experience, not all about the music."
Jim DeRogatis, associate professor of instruction in the English and Creative Writing Department and music critic, said Lollapalooza's roots in the '90s alternative era was exceedingly diverse.
From 2011 to 2012 DeRogatis reported on the Lollapalooza festival for WBEZ with more than 10 reports on a number of issues including the festival's contract, park cleanup, lineup and taxes.
"Originally, it was an alternative, diverse, genre-blending kind of sound and lifestyle," DeRogatis said. "Now, it doesn't really mean anything except selling tickets. … It's a fundamentally corrupt, corporate sham foisted upon Chicago by the [Mayor Richard M.] Daley Administration and then grown even bigger by the [Mayor Rahm] Emanuel Administration."
By wallpapering Grant Park with corporate advertising and charging a large sum of money for tickets to see internationally-known artists like Ariana Grande and Childish Gambino, DeRogatis said the festival-runners are "lock[ing] people out of the 'people's park' unless they can afford those $100 tickets."
"It has nothing to do with a genuine music experience or Chicago," DeRogatis said.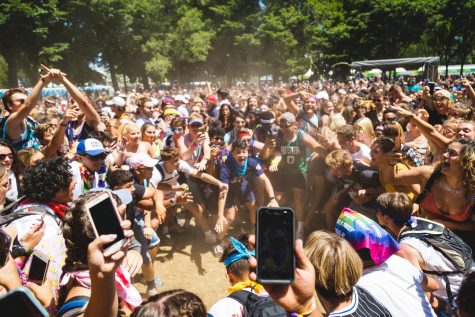 This year's lineup featured a diverse set of artists including headliners such as Ariana Grande, The Strokes, Childish Gambino, Tame Impala, Twenty One Pilots and Bring Me the Horizon—all of whom fall under very different genres.
Anne Schaefer, 56, from Iowa, attended the festival for one day to see one artist, the blues-meets-hip-hop musician Gary Clark Jr., and to spend time with her son.
"I don't think it's really appealing to people my age," Schaefer said.
However, she said it is great there are a few artists she knows and can see perform, and that is good enough for her to justify buying a ticket.
Cary Schaefer, Anne Schaefer's son, said he does not pay too much attention to the lineup as a whole, instead focusing on the artists he enjoys. He said he sees the lineup as consisting mostly of pop and electronic artists.
Schaefer and her son both agreed the reason they attended the festival for a single day was because of the ticket price, plus the only artists they wanted to see were on one day.
Michigan-based attendees Jackie Janicke, 22, and Bri Schatz, 20 also did not attend all four days because it is "too expensive" to buy tickets, and book somewhere to stay in Chicago, which can be expensive in and of itself.
Schatz and Janicke suggested the festival offer packages with local hotels, much like how festivals in Michigan sometimes do. Or have a campground where multi-day pass holders can sleepover.
"It would show Chicago that they're giving back to the community," Schatz said. "I am willing to pay the price if the lineup is worth it."