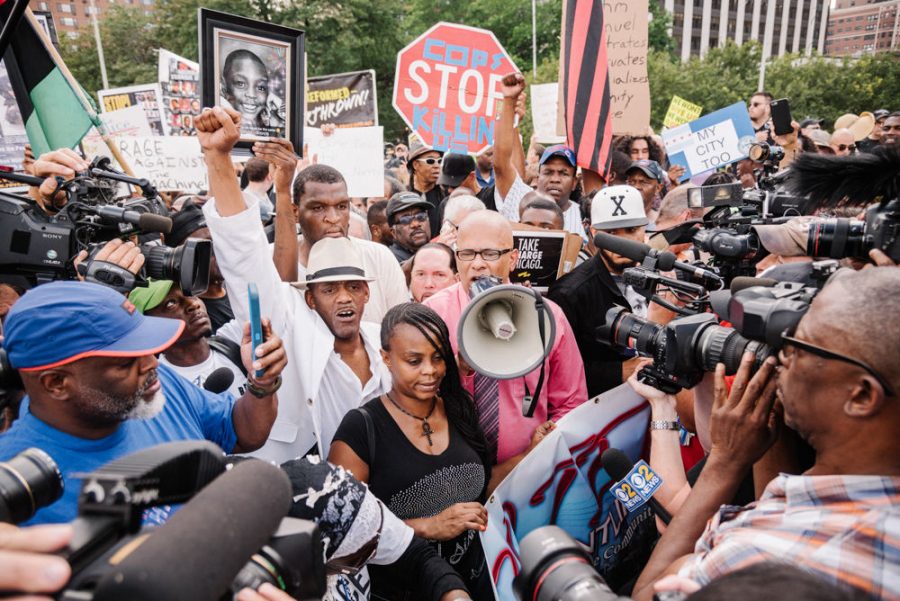 Kevin Tiongson
Protesters shut down Lake Shore Drive before marching to Wrigley Field Aug. 2 to demand police reform on Chicago's South and West sides. Anthony Guglielmi, chief communications officer for the Chicago Police Department estimated the crowd size to be 150 people via Twitter. 
The Chicago Police Department has dealt with backlash during the past month after body camera videos of two separate fatal shootings was released. CPD has attempted to correct these problems by introducing reforms to training, practices and accountability, according to a series of reports. 
Bernard Noven, 80, a protestor at the event and a resident of Uptown, said he does not see much change on the West side when he visits. He said he believes Mayor Rahm Emanuel is not adequately funding every neighborhood and that the city needs to invest in local businesses. 
"We are shutting down Lake Shore Drive because there are too many killings in Chicago," said Tio Hardiman, an event organizer and speaker. "It's time to change the narrative of these killings." 
Other demonstrators echoed Hardiman's sentiments and called for change.
"We are not out here because we hate the police," said Joseph Eccleston, co-chairperson of the Chicago Alliance Against Racist and Political Oppression and speaker at the march. "We hate that [the Chicago Police Department] can do what [they] want to do. If [the CPD] commits a crime [they] don't go to jail. If I commit a crime, I go to jail." 
Eccleston also called for portions of CPD's budget to be reallocated to keep Chicago Public Schools open. 
After speeches on Lake Shore Drive, demonstrators began to march toward Wrigley Field
Banging on drums and blowing whistles, marchers asked for the removal of Emanuel and CPD Superintendent Eddie Johnson. They chanted, "Justice for all Chicagoans" and "Time for a change," referring to the removal of Emanuel and Johnson.
Under Johnson—who has been CPD's superintendent since March 2016—Chicago has reached historic levels of gun violence. However, the city experienced a 21.6 percent reduction in shootings for 2017 compared to 2016, according to CPD, as reported Jan. 22 by The Chronicle. 
But to some residents, statistical reports of less gun violence is not enough.
"There's not only gun violence [in Chicago]," said Austin resident Rochelle Sykes, 53. "Demetrius Griffin Jr., was burnt alive in a garbage [can]. He wasn't shot." 
Sykes noted that even though CPD may boast about reducing gun violence, the level of violence she sees around the city remains the same. 
Protestors were met at Wrigley Field by police on horseback and barricades, which prevented them from entering the stadium.
Side entrances were open for fans attending the 7:05 p.m. Cubs game.
Outside of Wrigley Field, marchers scrawled messages on the street with chalk asking for Emanuel's removal from office.
Sykes said she would like to see the protest bring attention to the issues, and would like to see more protests that close off city streets. 
Some people may hear about what is going on, but may not understand the severity of the problem, Sykes said. 
"There are too many people losing lives on a daily basis for unnecessary things," she said.