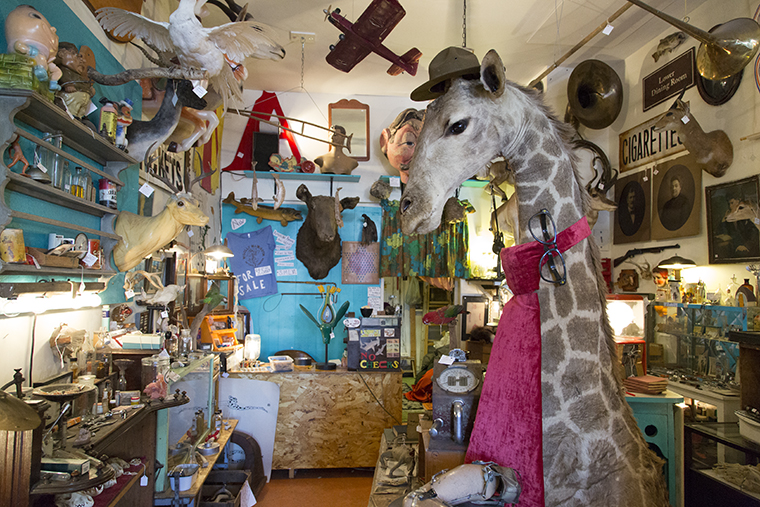 Anthony Soave
Full of bones, teeth, old medical instruments, art pieces made of human hair and numerous taxidermy mounts, Woolly Mammoth Antiques and Oddities certainly lives up to its name, a title reinforced by the store's new mammal and bird taxidermy workshops.
Just as the newly popular Discovery Channel show "Oddities" introduces new audiences to the world of taxidermy, Woolly Mammoth Antiques and Oddities, 1513 W. Foster Ave., is offering taxidermy classes for beginners interested in dabbling. On Jan. 25 and 26, the store convened its fourth edition of taxidermy classes, focusing for the first time on birds instead of mammals.
The popularity of "Oddities," which is primarily about a store in New York, has boosted business immensely, said Skye Rust, Woolly Mammoth co-owner and 2006 interdisciplinary arts Columbia alumna. The show even filmed in the Chicago shop a year ago for an episode that is scheduled to air in the future.
The store is home to many taxidermied animals, including an armadillo, rats, birds, fish, deer and even the bust of a giraffe named Sir Necklace. 
"It just made a lot of sense that we offer taxidermy workshops because it's something that you can't really find and it's very appropriate to the shop," Skye Rust said.
During the most recent taxidermy class, students worked on pheasants. Skye Rust said all the birds, which were purchased from a pheasant farm in Wisconsin, had experienced "post deaths," meaning they committed suicide by running into posts. 
Working on farm-raised pheasants requires no formal training or permits in Illinois. Six students, mostly beginners, attended the class and took two days to resurrect the birds. Skye Rust said the project attracted a full roster.
One beginner, who completed the class a week prior as a test run, is store manager Audrey Waltey. Waltey said although the class was a little rushed for her, it was a great experience. Taxidermy is a way of facing her fears.
"I always had this weird obsession with death and never dealt with it well as a kid," Waltey said. "I think most people don't, so I just threw myself in it."
Isabella Rotman, a cartoonist who makes small comic books and runs the popular blog ThisMightHurt.Tumblr.com, taught her first taxidermy class on Jan. 25 which she was qualified to teach because of her time studying taxidermy at The Field Museum. 
Skye Rust assisted Rotman.
"My husband and I, who are total over-the-top animal lovers, kind of see it as a way of rescuing them … [and giving them] to a loving home who don't necessarily see them as a hunted mount but more like a beautiful animal that deserves the respect that they are willing to offer," Rust said.