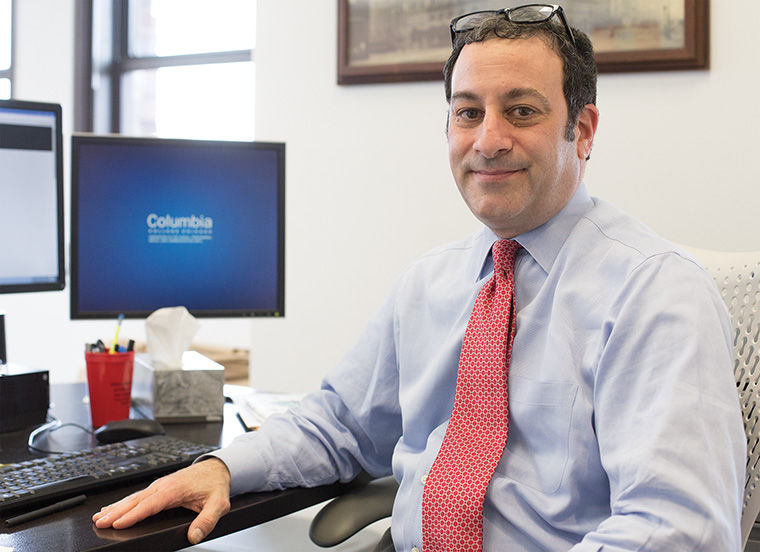 FILE PHOTO
Jon Stern, the college's vice president of Alumni Relations and Development, left the college May 17, holding the position for less than two years.
Stern is leaving to "pursue other opportunities," according to the statement in a May 17 email from President and CEO Kwang-Wu Kim to the board of trustees, administrative cabinet, department chairs and deans as well as the Development and Alumni Relations offices.
"On behalf of the college, I would like to thank Jon for strengthening and expanding the work of alumni relations, and laying the groundwork for future fundraising success. I know all of you will join me in wishing Jon well," Kim said in the email.
After serving as dean for college advancement at Wabash College in Crawfordsville, Indiana, for two years and over a decade for University of Chicago Law School where he spent time as associate dean for Campaign and Strategic Initiatives, Stern began working at Columbia in August 2014.
He succeeded Warren Chapman who held the position on an interim basis following the departure of Patrick Sheahan, who was vice president of development from September 2013 to January 2014.
Sheahan replaced Eric Winston, who was interim development head for three months before receiving a permanent appointment from April 2006 until August 2013, when he retired.
According to the email, representatives from the higher education search firm Isaacson, Miller, the company responsible for several of the college's recent administrative hires, will lead the search for Stern's replacement.
Miriam Smith, the current executive director of Alumni Relations and Annual Giving who joined the college in August 2015, will temporarily be the senior manager of the Development office until a new vice president is hired.
In his most recent sit-down interview with The Chronicle April 26 about his office's efforts within year one of implementing the collegewide Strategic Plan, Stern said that while overall donations to the college were "flat" during the last year, his office has made efforts to better connect with alumni nationwide by partnering with other departments across campus.
David Flatley, executive director of the Center for Community Arts Partnerships, said he worked with the Development Office several times a year to sustain the center's funding based on grants or other donations.
While Flatley said he was "fond" of Stern, he added that CCAP will help support Smith and any new replacements.
"We've been in a state of transition with new leadership at the top and that translates to a whole bunch of things as it relates to the functionality of the college, but then, of course, the strategic direction and the work that all the departments are doing to support Dr. Kim's vision," Flatley said. "That's something that I would like to see continue and suspect will continue in an interim leader and whoever comes in to take Jon's place."
Stern declined to comment for this story as of press time. Interview requests with Smith, Richard Dowsek, interim vice president of Business Affairs and Chief Financial Officer, and Bill Wolf, the newly-appointed chairman to the board of trustees, were all denied by college spokeswoman Cara Birch.