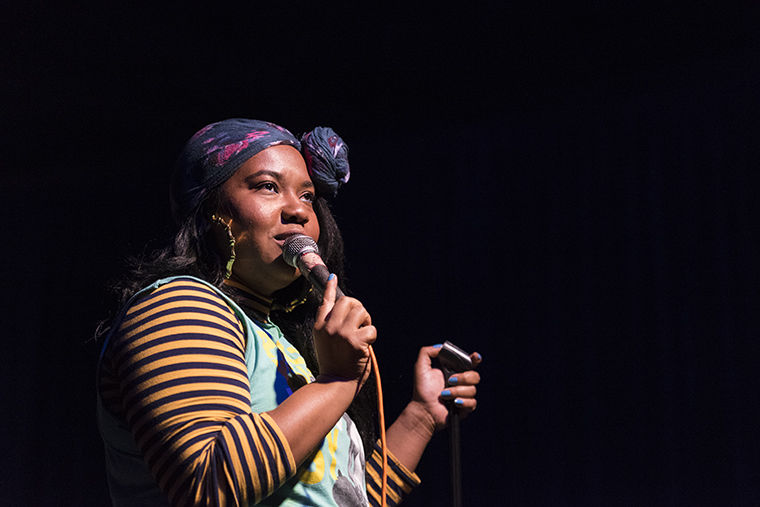 G-Jun Yam
It is Wednesday night and the music of local Chicago musician Jamila Woods comes through the speakers at Cole's Bar in Logan Square. The neighborhood dive is filled with friends talking, drinking and playing pool, but many are furiously reading and writing.
It's Cole's open-mic night, and comics throughout the bar are working on their stand-up material with concentrated faces, writing in small, worn-out notebooks full of scribbles and crossed out words.  
The long-running, free weekly comedy night at 2338 N. Milwaukee Ave. is one of the most revered in Chicago and features more than 50 comics in one night, all looking to enhance their craft and try out new material. Many comedians got their start on Cole's small stage, including the duo that founded the event: Cameron Esposito and Adam Burke.
On Oct. 26, famous local comic and actor Hannibal Buress dropped by to do a 20-minute stand-up set, which packed the small back room with laughter and thunderous applause. He usually performs in much larger venues, such as his upcoming Nov. 4 show at New York's historic 1,500-seat Apollo Theater.
Buress is known for his work in "Saturday Night Live," "30 Rock," "Broad City" and Adult Swim's "The Eric Andre Show," as well as his Comedy Central and Netflix specials.   
One of his most notorious bits from a show at a Philadelphia comedy club had serious consequences: A routine about the disconnect between Bill Cosby's shaming black youth for wearing baggy pants and his hushed-up rape charges went viral and led to women coming forward to tell their horror stories about Cosby.
Someone willing to take on revered comedy icons just might start riffing on audience members, as Buress did when he hit the stage at Cole's.
After praising the Cubs for winning against the Cleveland Indians in game two of the World Series, Buress took aim at an audience member who seemed a little out of it.
"This guy is digging his face into his fingers into his eyebrows—that's the best thing you want to have happen when you start doing comedy," Buress said. 
Next, he grabbed The Chronicle photographer's camera and snapped pictures of the audience, joking that he was doing a better job than the photographer while the audience took out their own cameras to record the moment.
"You are going to get so many dope shots," he said to the photographer. "I love that I take this [camera], and you're like, 'Oh, life is tough—life is tougher than I thought it was.'" 
Buress then brought him onstage and pretended to auction off the camera along with his "dope" pictures before wandering around the room to snap more shots for what he termed his "new photo exhibit" and teasing late comers to the show.
It's this kind of unpredictability that makes Cole's open-mic night irresistible to a spectrum of amateur comics, improv nerds and even established Chicago comedians who come back to break in material or just goof around.
Rebecca O'Neal is one of those lucky Chicago comedians who can now pay the bills doing what she loves, but it was not always that way. The South Side native who co-hosts Cole's open-mic nights started doing comedy in 2012 and worked hard to get to where she is today—hosting shows at The Laugh Factory, performing at The Comedy Bar, Sh-tHole and Uncharted Books, along with bars, theaters and just about any place in the city that showcases comedy.
Like Buress, Cole's was the first open mic O'Neal performed at. She remembers her shyness onstage four years ago, laughing at a part of herself long gone. Although she is no longer a struggling artist, it took four years of hard work, she said.
"People think it's noble to be a starving artist, but it's more noble to be successful at doing what you love," O'Neal said. 
Because of its reputation as a platform for comedians, O'Neal said a lot of big comedians swing by Cole's when they are performing in town. 
"SNL's" Shasheer Zamata and Ron Funches from NBC's "Undateable" have stopped in to say hello and spit some jokes, O'Neal said. Buress is a regular, paying tribute to the small stage and piano on which he began his career in the early 2000s. 
"As far as Chicago comics go, he is a legend," said O'Neal, who has opened for Buress, Zamata and Al Madrigal of "The Daily Show." "If he pops into your show, you are like, 'Of course, you can do as much time as you want.'" 
There is a level of casual comfort at the open mic dives, which include more than 50 spots in Chicago including Beat Kitchen, Schubas and Cole's, and O'Neal said the supportive environment and tight-knit community means everything. It creates a space for established comedians to get back to comedic roots and allows rookies to hone their skills until they're ready to move on to bigger markets.
"You can toil in obscurity until you are good enough for opportunities that are entertainment industry level," she said. "There is no real entertainment industry here, so you can just get better and better until when you get to New York or [Los Angeles], they're like, 'Where did this random person come from?'" 
Esposito, a Chicago native now based in Los Angeles, has many television credits under her belt, including Marc Maron's IFC series, which she played half of a lesbian couple using Maron as a sperm donor. Known for her LGBT jokes and advocacy, Esposito is now the creator and host of Buzzfeed's "Ask A Lesbian" series and of the popular "Put Your Hands Together" stand-up podcast taped live for Los Angeles' star-creator, the Upright Citizens Brigade Theatre.
Burke, originally from the United Kingdom, is a prominent Chicago comedian regularly featured on NPR's "Wait Wait Don't Tell Me" and released his debut comedy album Universal Squirrel Theory with A Special Thing Records in 2012.
Chicago Underground Comedy, housed at the unsuspecting Beat Kitchen, 2100 W. Belmont Ave., has also birthed comedy celebrities and has a long history of helping underground comedians gain popularity. 
Producer of the show and local comedian Sydney Davis, Jr. Jr., said the 12-year showcase has seen surprise visits from Buress and T.J. Miller, a former member of The Second City's touring company who stars on HBO's "Silicon Valley," and whose credits include "Transformers: Age of Extinction," "She's Out of My League" and "Deadpool."  
Davis said comics who started out at ChUC have gone on to write for Conan O'Brien, Jimmy Fallon or Stephen Colbert, like her friend Josh Johnson who writes for "The Tonight Show."  
She said the career trajectory of a comedian begins with open mics, for which the "opening scene" consists of newcomers, and the "showcase scene" of seasoned pros.
"Slowly, [the open-mic] people become the showcase people, the showcase people become album people, and new, young fresh people come in and fill the open mics," Davis said.
Coleman Brice, who owns Cole's, started the comedy night seven years ago when the bar opened and said it has been rewarding to learn about the stand-up community and meet comics through all the traffic at his bar.
"The comedy community, more than most other artistic communities, is extremely supportive of itself," Brice said. "As people graduate out of the scene, [they] will maybe become more famous and move to the coast. They always return home and interface with the younger comics."
He said rising stars and more established comedians stop by on a regular basis to support younger comics getting into the scene.
"You don't see that in the music or visual arts community; you don't see Mick Jagger doing open mics," he said. 
Tyler Snodgrass, who considers himself a "serious" comedian and co-hosts an open mic every Monday on the top floor of Schubas Tavern, 3159 N. Southport Ave., has immersed himself in all things comedy and regularly attends open-mic nights. He performed at Cole's Oct. 26 with a set that poked fun at being from The Ozarks and growing up religious—two of his common themes. Snodgrass has also performed at ChUC, The Blackout Diaries and Three Dead Moose at Will's Northwood Inn, his first Chicago open mic when he moved to the city three years ago.
"The reason [open mics] exist is to be seen by other people, but mostly so you can polish stuff you want to work on or test out brand new stuff to see if it has legs whatsoever," Snodgrass said. 
Most Chicago comedians like O'Neal aspire to perfect their craft and then move to New York or Los Angeles, but their time here is what makes them stand out. She said she wants to discover new opportunities like her notable comedy friends did, but she really just wants to be happy and financially successful.
Although she sometimes feels restless because she is outgrowing Chicago's open mics, their
welcoming environment allows her to be open about her personal life onstage and encourage others to embrace their problems instead of pushing them away.
"This is the place where people come to feel comfortable, and there are no barriers to entry," she said. "Seeing people do this is why I feel okay doing it; let's not pretend everything is okay when it's not."