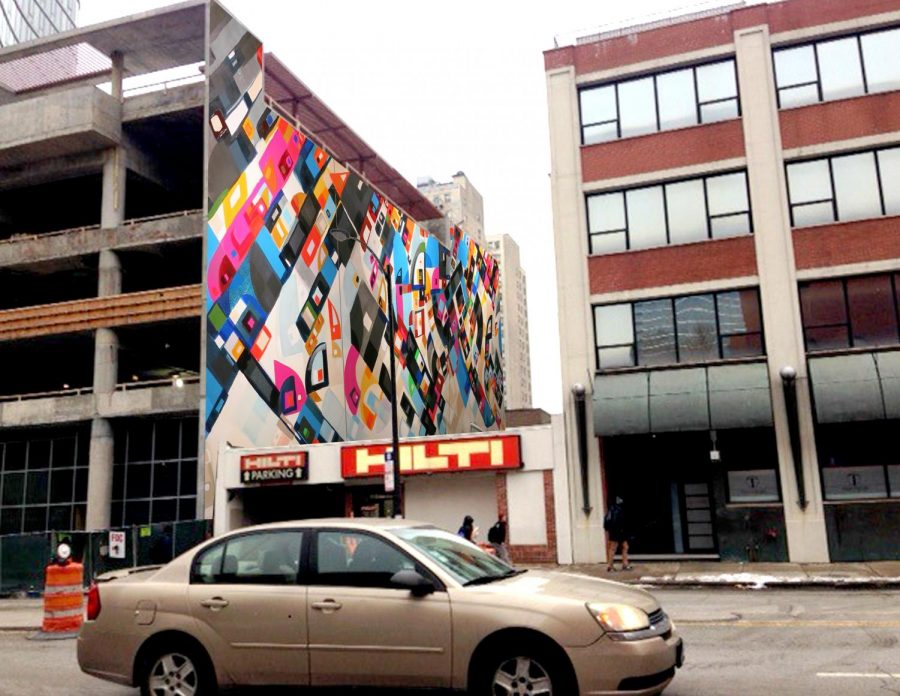 Courtesy Tara Vock
Local art lovers and Columbia's creatives can now celebrate their campus prior to the 16th annual Manifest urban arts festival with "Big Walls," an event set for May 1 through May 13 that will feature the creation of 20 new full-length murals within the campus' Wabash Arts Corridor. 
The murals, some several stories tall, will be created on walls of South Loop buildings surrounding those that make up Columbia's campus. They will be created by international and local artists as well as Columbia alumni and students, according to Mark Kelly, vice president of Student Success. 
Columbia also will partner with the Chicago Loop Alliance, a group dedicated to improving the area, to create an alleyway site next to the Johnson Publishing Building, 820 S. Michigan Ave., showcasing alumni work.
"[This] launches us into a special place to the world of public and street art," Kelly said. "We've started assembling a collection of huge work."
Manifest, which will take place May 13, attracts more than 30,000 attendees annually, including students, faculty, staff and administration as well as the greater Chicago community and many students' family members, he said.
Designed to show off the creative output of graduating students through concerts, exhibitions, fashion shows and more, Manifest's programming has a festival-like structure that has previously included ziplines, art centers and local food vendors.
"Our students have been on an academic journey," Kelly said. "They've been crafting a body of work, and now they get [to have this] huge audience."
Manifest is largely organized by student producers, including approximately 3,000 students and two classes from the Business & Entrepreneurship Department in charge of different event spaces.
The main stage, home to Manifest's headlining acts booked by the Student Programming Board, is often crowded with students eager to see the big-name talent that performs. Previous Manifest headliners have included Chance the Rapper in 2013 and Twin Peaks in 2015. 
Kelly will also lead a procession for the approximately 2,400 graduating students down Wabash Avenue, who will have the chance to sport their senior shirts and streamers on which they can write their "creative persona."
The theme of this year's Manifest, "animate," represents how 2016's  graduates will impact their chosen fields, Kelly said.
"Every one of our students is in a creative discipline and [will] go out into the world and 'animate' the world beyond Chicago," Kelly said. "Chicago will be a different city because of these 2,400 graduates, but not just Chicago. They're going to animate the world beyond Columbia."
In addition to selecting two Columbia students who will complete murals for the "Big Walls" celebration, Kelly said the event promotes student competition through event planning and the work of this year's  artistic director, senior design major Cassidy Kapson, who won by popular vote this year. 
One of the most important aspects of Manifest, according to Kelly, is how it is a day for Columbia students to better understand what goes on in classrooms beyond their own departments.
"It's a very exciting day because our imagination, I would argue, tends to be tethered day-to-day in terms of what we have at Columbia," Kelly said. "Nobody understands what [other students] are doing. We're in our own little world and Manifest is [meant] to make that all combine and become palpable."