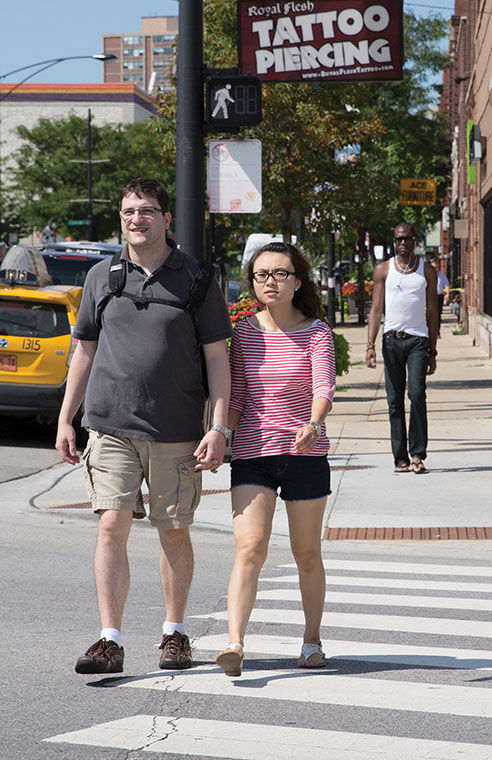 Kelly Wenzel
Boystown, a Lakeview neighborhood known as the city's preeminent gay district, may soon see a shift in its demographics as more straight couples move into the area and gay residents move out.
In recent years, the most well known gay neighborhoods in America have seen demographc changes as the segregation of gay and straight residents has steadily decreased throughout America, according to the 2010 U.S. Census.
The number of male partner households decreased by 9.8 percent while female partner households decreased by 13.6 percent, showing that gay and straight couples are migrating into similar neighborhoods, according to the Census Bureau report.
Nico Mule, a Boystown resident, said the increasing integration of both straight people and gay people in a neighborhood is a sign that social attitudes have shifted, and there is more tolerance.
"If anything, that means people are okay with places [where] there are a lot of gay people," Mule said. "I think in terms of diversity, it's a good thing. In terms of people being more accepting, that's a good thing."
Amin Ghaziani, an associate professor of sociology at the University of British Columbia, researched the demographics of straight and gay neighborhoods, which resulted in a book called "There Goes the Gayborhood?" detailing his research regarding the movement.
"If we just look at the most visible gayborhoods, places like the Castro in San Francisco or West Hollywood or Boystown in Chicago, then we might be tempted to conclude that these areas are diluting and de-gaying," Ghaziani said in a Q-and-A with Princeton University Press for his book.
Andy Thayer, co-founder of Gay Liberation Network, also said the movement could be seen as a sign that gays are becoming more accepted in the U.S.
To date, 19 states have legalized same-sex marriage, which has in turn advanced gay acceptance and equality, he said.
"With the victory of equal marriage rights in Illinois and the passage of previous legislation, more LGBT people feel like they don't have to live in the gay entertainment system in order to walk comfortably down the street with their spouse or boyfriend or girlfriend," Thayer said.
Not only does the national acceptance of the gay community propel changes in neighborhoods such as Boystown, but real estate prices are pushing people out of these neighborhoods and have been for a long time, Thayer said.
"The vast majority of LGBT people are working class and can't afford that kind of rent," Thayer said. "[They] can't afford to buy condos in such a pricey neighborhood. Even Andersonville [another gay neighborhood in Chicago] is pushing a lot of people out."
According to real estate agent Anthony Nowak, the Lakeview neighborhood is one of the cheapest on the city's north side.
Same-sex couples annually earn $15,000 less than the average heterosexual household, and 20 percent of gay couples are more likely to live in poverty compared to nine percent of straight couples, according to Ghaziani.
"It's a reflection that, as we push for social and legal equality, people feel like they don't have to live in 'gay ghettos,'" Thayer said.
Joshua Beattie and Xiaoying Yang, a straight couple and residents of Boystown, recently moved to the neighborhood and have enjoyed the atmosphere. Beattie and Yang said they feel safe in the neighborhood and the gay aspect does not bother them.
"I don't really see too many dangerous things going on around here," Beattie said.