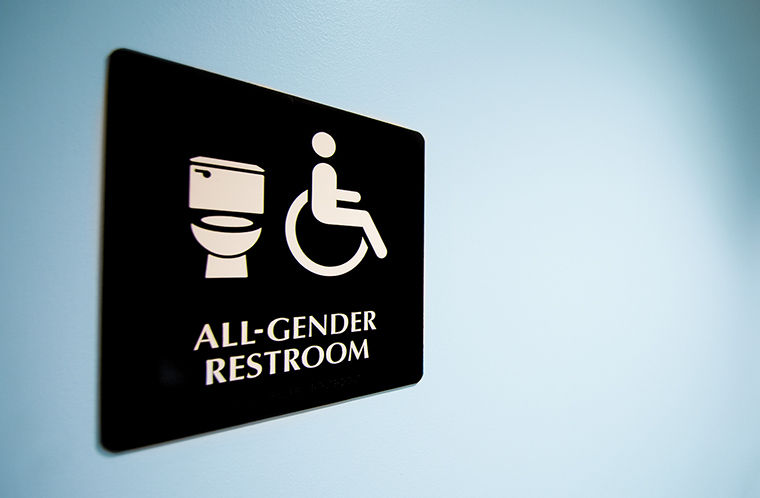 Dolly Nguyen
"Hello my name is Arley, my pronouns are they/them/theirs," reads a poster that now hangs in several Columbia buildings.
The hanging of these posters is one of many actions being taken by the Office of LGBTQ Culture & Community as part of its new Gender Inclusive Initiative, launched to "increase awareness, access to resources and affirmation for diverse gender identities and expressions" on campus, according to the office's page on Columbia's website.
The initiative includes personal name and pronoun awareness, an increased number of all-gender bathrooms on campus, gender inclusive housing options and additional educational resources on LGBT related topics, according to the web page.
"In an effort to welcome students in the most inclusive possible manner and to honor who a student identifies as, we decided these were the next steps," said Kari Sommers, associate dean of Student Life.
Columbia joins other universities such as Harvard and the University of California, Berkeley in creating a formal initiative toward gender inclusiveness, according to their websites and college spokespeople.
Personal or preferred pronouns are defined as words such as "he," "she" or "they" that people can use to identify themselves and have others identify them with, said Lex Lawson, coordinator of the Office of LGBTQ Culture & Community.
"Columbia is supporting us and the [LGBT] community, and it validates our presence on campus," said Carson Ruta, a junior cultural studies major and president of Common Ground, the college's LGBT and ally student organization. "There are a lot of people who use pronouns that you might not expect."
According to Lawson, this initiative should start to normalize asking and using the appropriate names and pronouns for everyone at the college.
"Knowing somebody's name and knowing somebody's pronouns are just things you should know about a person. They are things that are good to know in order to respect a situation," said Lazzlo Jenkins, a senior design major.
Knowing somebody's name and their pronoun might just be one step, but it is a monumental one, Jenkins added.
In the classroom setting, the recognition of preferred pronouns by faculty members is important, Ruta said.
"I left a class the other day halfway through because [the professor] was not being respectful with pronouns," Ruta said. "It was putting me in a harmful situation because I was being misgendered."
Sommers did not comment on Ruta's specific incident, but she said faculty should play an important role in implementing the initiative.
"Diversity as a pillar is absolutely one of the pieces that will directly support both faculty and staff in partnership with our students to advance these conversations and impact our culture in a positive way," Sommers said.
Faculty members are important in the implementation of the initiative because they are in a position of leadership, said Cal Walker,  a sophomore theatre major who changed their name and pronouns through OASIS.
Lawson is trying to integrate this initiative into the Diversity, Equity and Inclusion section of the collegewide Strategic Plan.
Walker said they hope this initiative will provide an opportunity for students to be educated on LGBT-related topics.
"I often found myself, as a queer person, in positions where I felt like I have had to educate people," Walker said. "I am happy to do it, but on the other hand, it gets repetitive and tiring, and it should not be the job of people that are questioning."
Another goal of the initiative is to offer an all-gender restroom in every campus building, Ruta said.
The college currently provides 18 single-use, all-gender restrooms open to anyone of any gender identity or expression to use safely on campus, according to the LGBTQ Office of Culture & Community web page.
This summer, the Campus Environment department identified every single-use restroom on campus that could be converted into all-gender restrooms, Sommers said.
"Our culture is focused on the gender binary, so you have to be either male or female," Lawson said. "That excludes people and can create unsafe situations."
Walker said the initiative is an exciting step for Columbia to boost the visibility of LGBT students.
With this initiative, Sommers said she thinks Columbia is going to be a step ahead of other higher-education institutions.
"With the continuation of this work, we will be leading many other institutions," Sommers said. "They will be coming to us in a few years to talk about how awesome it was and how did we did it and that is really exciting."