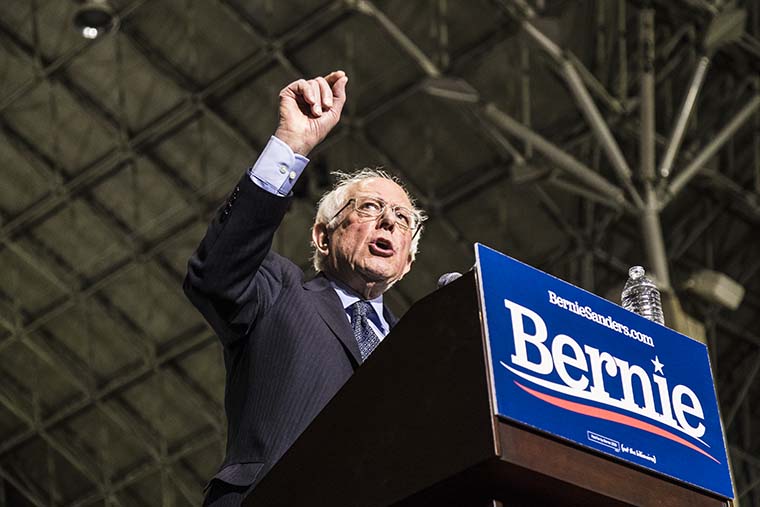 Halie Parkinson
Sen. Bernie Sanders (I-Vermont) declared political revolution during the launch of his 2020 presidential campaign, which included a stop in Chicago.
During a March 3 rally held at Navy Pier, 600 E. Grand Ave., Sanders labeled President Donald Trump "the most dangerous president in modern American history." He also called out the University of Chicago for promoting segregation in the '60s and echoed campaign promises from his 2016 presidential bid.
"[Democrats] thought we were kind of crazy and extreme," Sanders said during the rally. "We are gathered here tonight to complete the political revolution we started three years ago."
Sanders spoke of a sit-in he participated in during his time as a political science major at the University of Chicago in the 1960s. An organization he was a part of decided to test whether the university-owned apartments were segregated or not by sending in a black couple and a white couple to try to secure an apartment. The black couple was told there were no units available. Just hours later, the white couple went in and found they had a choice in units.
After discouraging comments from the university president, the students staged a sit-in in front of the chancellor's office to protest the university's discrimination.
"My four years here in Chicago was an extraordinary moment in my life, and very much shaped my worldview and what I wanted to do," Sanders said.
Danny Lyon, a filmmaker and friend of Sanders' while at the University of Chicago, was the campus photographer who captured photos of the sit-in.
"When they did that sit-in, people didn't care. No one patted Bernie on the back. But that demonstration that he led was the first sit-in to take place anywhere in the North," Lyon said during the rally. "Young people don't want to know about history. Young people want to make history."
Ben Cohen, co-founder of Ben & Jerry's ice cream, a constituent of Sanders and fellow Vermont native, spoke at the event about Sanders as a man.
"Ice cream is good, but a president of the United States that truly stands for justice in all its flavors, that is euphoric," Cohen said. "[Sanders] has a clear vision of how to make America kind again. He doesn't go with the trends, he sets the trends."
Also speaking was Sen. Nina Turner (D-Ohio) who touted Sanders' progressive ideals when it comes to calling out corporate America, as well as his persistence following his 2016 defeat.
In his address, Sanders re-visited campaign promises from his first run, including: the guarantee of health care for all as a human right, adjusting tax brackets, raising the federal minimum wage to $15 an hour and prioritizing affordable housing.
Many Illinoisans earn $8.25 an hour for minimum wage, but under recently-passed state legislation the minimum wage will increase intermittently until it reaches $15 in 2025.
He also promised free public college education, as well as making loans more affordable—a promise that impresses many of his young supporters.
In a crowded field of progressive candidates for the 2020 Democratic nomination, Sanders' socialism and activism may continue to set him apart.
"We cannot allow the very rich to become even richer while over 20 percent of our children live in poverty; while veterans who defended this country sleep out on the streets; and seniors cannot afford the medicine they need," Sanders said. "Real change never takes place from the top on down. It always takes place from the bottom on up."
Correction 3/8/19 at 12:44 p.m.: A previous version of this article incorrectly stated Chicagoans earn $8.25 an hour. The Chronicle regrets this error.