VIDEO: Lion's Journey
By Cristina Aguirre
February 2, 2009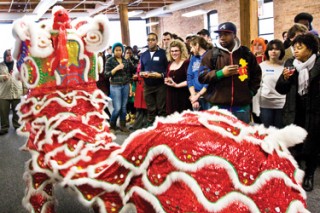 In celebration of the Lunar New Year and the opening of the 916 Building, 916 S. Wabash Ave., Columbia's Office of Multicultural Affairs hosted its "Lion Parade" on Jan. 29.
The traveling lion parade began at the Conaway Center in the 1104 Center, 1104 S. Wabash Ave., then moved onward to the 916 Building to "bless" Columbia's new spaces. Throughout the day, the lion parade snaked around campus and ended at the Multicultural Affairs Open House.
Hang on for a minute...we're trying to find some more stories you might like.