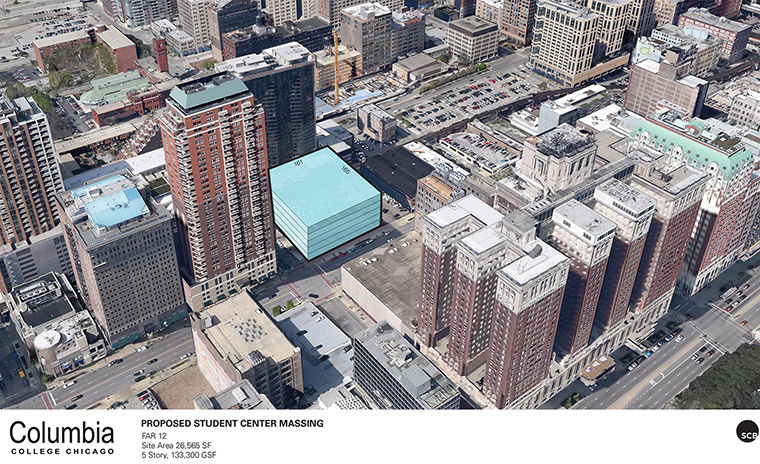 Courtesy Solomon Cordwell Buenz©
Student voices will be an important force in planning Columbia's recently announced Student Center, according to Mark Kelly, vice president of Student Success.
The center, which is slated to be complete by the Fall 2018 Semester, was approved for development Oct. 28 by the board of trustees, as reported Nov. 9 by The Chronicle. The location, which contains 26,565 square feet of space, will occupy what is currently the Papermaker's Garden at 8th Street and Wabash Avenue and the parking lot behind it, which the college also owns, Kelly said.
During the next nine weeks, the college will consult with Chicago-based architecture firm Solomon Cordwell Buenz, which also designed the sleek Crate and Barrel store at 646 N. Michigan Ave., to create a document listing ideas for the new space. To do this, SCB will conduct a listening tour seeking college-wide opinions, according to Gail Wozniak, a designer at SCB.
"When we are working with higher education spaces, we try to make sure we're listening to a variety of groups and representatives from campus," Wozniak said. "Not only will we be speaking to faculty, but we're really interested in what students think and what they feel is a need on campus."
After the original programming phase, the firm, which will meet with several student groups the week of Nov. 16, will share ideas to ensure the college's requests have been noted accurately, Wozniak said. She said the actual designing and schematic makeup of the building can begin after that.
"It keeps getting more refined as we continue to go through each iteration of the program until the very end—you get a document that lists everything that will be in the building along with all the details of the spaces," said Vickie Apostolopoulos, an associate at SCB, who added that details regarding what the building will look like and how many floors it will be will not be determined until those later processes are complete.
The budget for the building will be determined  during the schematic process and is normally done in tandem between the firm and the college, Wozniak said. President and CEO Kwang-Wu Kim said the center will be bankrolled by a fundraising campaign, but it also will help that the college already owns the land.
Kelly, who led the creation of Columbia's first student space, the Hokin Lecture Hall at the 623 S. Wabash Ave. Building in 1987, has continued to advocate for the creation of a student center. He added that the largest place where students can currently congregate is the Conaway Center at the 1104 S. Wabash Ave. Building, which holds approximately 350 people.
Kelly said he is thrilled to finally work with a president and board of trustees who support the development.
"To have a strong commitment to this, I pinch myself," Kelly said.
Kelly said previous campaigns for a student center were not prioritized like the current one is. He added that a 2002 initiative garnered support from the former president but never came to fruition because it was seen as "extra."
"It was a different era," Kelly said. The college did not believe this was a priority."
Kim said it became evident to him that a student center was needed when he spoke with SGA President Jerel Ballard during Ballard's freshman year.
Ballard, a junior journalism major who was then commuting from Milwaukee, said it was during that time when he noticed there was no centralized place for students to work, relax or eat on campus.
"That was when the topic really started beginning within student government," Ballard said. "I got to present to a few of the board members about that idea, and it had a light bulb go off in their head of 'why don't we have this?'"
Ballard said SGA will host a forum Nov. 17 called "Build Your Student Center," inviting students to share their opinions with Kim about what the building should include.
Kelly said he hopes students take advantage of their opportunity to be involved in the center's development.
"Their voice and ideas will be part of informing the architects and creating what I hope is going to be some very innovative, brilliant space that speaks to our community," he said. "I would assume this would be unlike any student center we know because we're different."
Before the center was officially approved, the board met with a student-led discussion panel in October that allowed trustees to ask questions and students to share their personal experiences about why having a student center on campus is necessary, said Ashley Modrow, a senior television major who participated in the panel.
Modrow, who is also a fall orientation leader and a resident assistant in the Dwight Lofts, said she discussed how she could have benefited from such a center as a transfer student, adding it was difficult for her to find a place on campus before finding a major and other student organizations that foster community.
"If [students can go to a student center], that's opening up collaboration automatically—transfer students [will be able] to find that immediately instead of waiting the six months I waited to find a good group of friends," she said.
Kelly said the center will benefit not only prospective students, but all students, whether they live on or off campus, in terms of opening them up to collaboration and giving them the student community they have long been asking for.
"We do not build a student center to attract students, but it will attract students," Kelly said. "When students come to Columbia, they are intrigued, but I think one of their questions is 'Will this be a comfortable home for me?' That answer will be yes as this [development] begins to emerge. For students here, it's going to make it so much harder to leave because it is now their community."