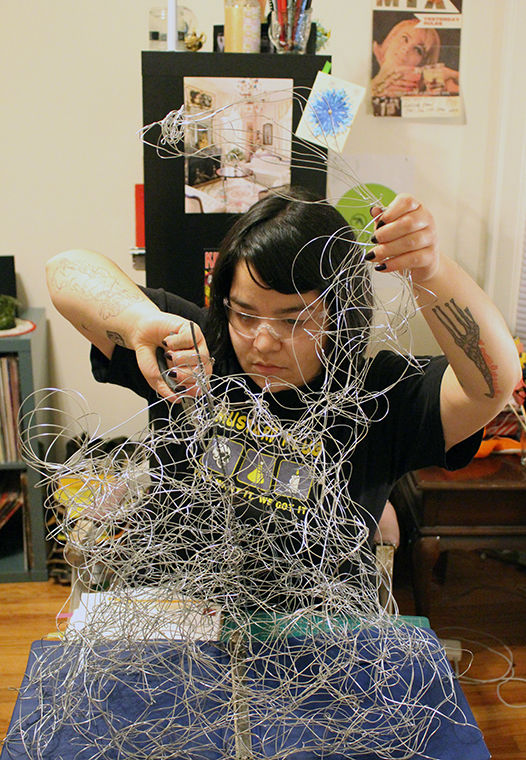 Allyson Gonzalez, a 2009 theatre alumna, said she has never had the heart to throw away what other people deem useless. After starting a collection of junk, Gonzalez began repurposing it into art. In 2012, she created her first puppet, which was made of Popsicle sticks.
Gonzalez said she decided to make puppets after seeing an opening for a puppet show on the Chicago Artists Resource's website. The job did not require specific prior experience, so Gonzalez said she thought she could adapt her classic stage directing training for the unfamiliar art form. She is now performing for the second time in the Chicago International Puppet Theater Festival, which runs until Jan. 29. Gonzalez uses materials such as cardboard, paper products and pipe cleaners to bring her puppets to life.
The Chronicle spoke with Gonzalez about puppeteering, her one-woman shows and what was valuable about her time at Columbia.
THE CHRONICLE: Why did you choose to use recycled materials for
your puppets?
ALLYSON GONZALEZ:  My mom was always really big into recycling and definitely instilled upon me at an early age how important it was for everyone to do their part and the consequences of what happens when they don't. That has always been a cornerstone to keep in mind, whether it's shopping for new clothes or shoes or making puppets.
It's important for artists to have a conscience about the materials they use. It's really important to keep in mind things we've taken for granted before, like how caustic are your materials? Are your materials nonrenewable or are they locally sourced? It's definitely a different shift in thinking. I think in times before, we've had the luxury to not pay attention to that, but our environment now is a different state. You should be thinking about that before you think about how convenient it is to use that kind of product.
What is your creative process for creating puppets?
It's all based on the story. [I] start with an idea of what I want to work on, what I want to say, put that into a script, look through the script and start to identify moments of movement that would pair really well with that script.
I'm working right now on a play that involves a conference call. I think about all the people I've seen on conference calls and [how] they settle with things on their desk or their chair, or have a chair that reclines that you can rock back and forth in and swivel in. Those are all moments of movement that I try to pair with scripts. Once I identify the kinds of movements that I want to capture, then that gives me an idea of the capabilities I want my puppet to have.
Once I have the framework of, "I want my puppet to be able to flip pages," "I want them to be able to type on a computer," [or] "I want them to be able to work a phone," then that means I have to have some kind of appendage for them to achieve that. From there, I sculpt how detailed the appendage is going to be. "Does the appendage have to bend?" "Do I have to have two of them?" "Can I get away with one of them?" Then, once I figure out what kind of appendages I need and what kind of joints I need for them to have to achieve the kinds of movements I need, I just kind of have fun and look at my resources and see, "How can I make this movement happen?"
What is your favorite part of the puppet-making process?
Needle felting is very similar to crocheting and knitting. There's kind of a therapeutic quality to it; you definitely let out a little bit of aggression when you're sitting there stabbing something forever, but the control [is] on par with acrylic painting or watercolor painting. There's so much technique you can exercise versus when you're working with larger scale puppets that are done more in the traditional style and are larger. I find in my own practice it just feels more approachable and more handmade because when you have a really beautiful puppet, sometimes the production value is so wonderful and glossy it's easy to forget that [it] was made by hand. My work definitely has a DIY feel to it, and that hopefully has an impact in my art to make it a little bit more approachable. Anybody can pick up this technique and work with it; it's just an old technique not taught very often.
How would you describe yourself as an artist?
I wanted to be a good representation of what a Latina female solo performer can express. There aren't enough of us out there, and I felt it was definitely a hole that needed to be filled. I guess that was my calling. I did not see enough people who looked like me doing what I'm doing, which is crazy because the Mexican culture has such a rich heritage of storytelling.
What about your studies at Columbia has helped you in your work?
I was given a space to troubleshoot the troubleshooting process. I was given the tools I still use now of what it's like to be a professional in this industry. It really helps a lot that the teachers are people in the field now.
The [professors] who were making great things happen in their career outside of teaching— those people gave me an insight into the industry I would not have been able to gain otherwise. That was very crucial for me because I figured out the kind of artwork I did and did not want to make. If I didn't have that as a reference, it would have taken twice as long to figure out how all the games are played.
I think that's the greatest thing I got out of my education. There was knowing what to expect and knowing that it's going to be really hard and no one's going to give you anything. You're going to have to fight for it every step of the way.