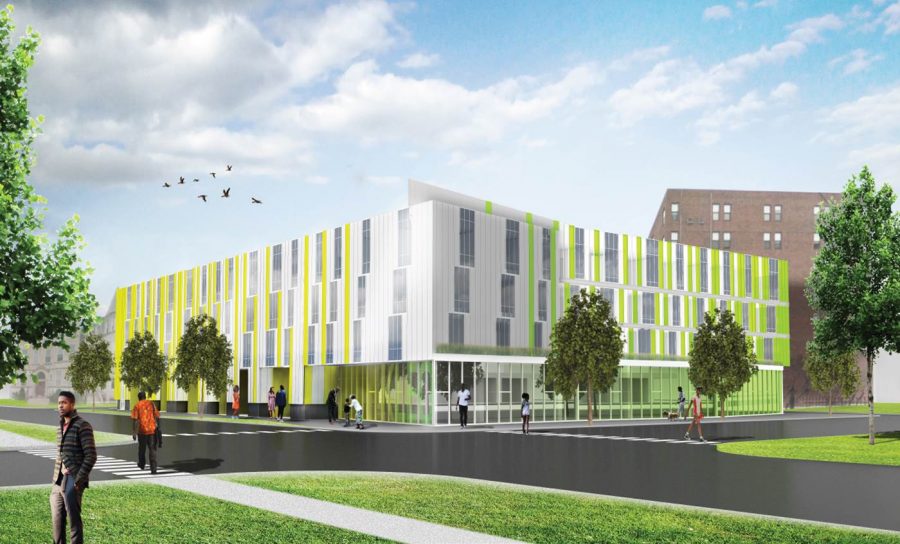 Courtesy Mayor's Press Office
Chicago artists can look forward to affordable housing and studio space at the new KLEO Art Residence, which has broken ground at the southwest corner of Garfield Boulevard and Michigan Avenue near Hyde Park.
The four-story building will have 49 units rented to artists and their families who have incomes up to 60 percent of the area's median income level, while the remaining nine units will be offered at market rates, according to a Jan. 9 city press release. 
The $23.5 million project will be funded by various sources, including $6.4 million in Tax Increment Financing funds and $1.5 million in Low Income Housing Tax Credits generating $15.2 million in equity.
The press release did not specify the type of artist eligible to rent in the building, and the mayor's press office did not reply to requests for comment as of press time.
Along with affordable housing and various amenities such as being close to the Garfield Green Line station, the KLEO Art Residence will provide 5,000 square feet of studio and retail spaces on the ground floor, according to the press release.
"Creating affordable housing and affordable studio space for [artists] is exactly the type of work we [would] like to see more of in Chicago," said Claire Rice, executive director of Arts Alliance Illinois, an arts education and artist advocacy group.
In Chicago there are an estimated 220 fine artists—artists who create original artwork including painters, sculptors and illustrators—as well as a projected 250 craft artists, who create or reproduce hand made objects for sale and exhibition including welders, pottery makers and needle crafters, according to artist classifications from a May 2016 Bureau of Labor Statistics report.
There are enough artists in Chicago that this building can fill up and be successful, said Julie Lawton, clinical professor of law and former director of the Housing and Community Development Legal Clinic at DePaul University.
"It's part of the city's desire to be inclusive [and] supportive of those residents who have sporadic income [and] to provide some additional support for the culture," Lawton said, adding that these benefits are even more needed in a city like Chicago with a high cost of living. 
Thirty-four percent of artists were reported as self-employed from 2005–2009 and had to find their own studio space without the help of a company, according to a October 2011 National Endowment for the Arts report. 
"[Finding quality studio] space is something we hear over and over again in arts and culture that is always at a premium," Rice said. "Finding space close to home [and] public transportation that is affordable is a critical need for the arts community."
Living in an apartment with access to a studio is more than just valuable, it is a must for any artist, said Tracy Kostenbader, painter and founder of Any Squared—2328 N. Milwaukee Ave., an art studio that offers drop-in hours on Wednesdays. 
The Washington Park arts residence will be part of a larger project to enhance the Garfield Boulevard corridor and another step in the University of Chicago's Arts and Public Life Initiative's Arts Block project to boost Garfield Boulevard through cultural, civic and commercial spaces and programs, according to the Jan. 9 press release. 
"Chicago is a city of culture and art," Lawton said.