Camilla Forte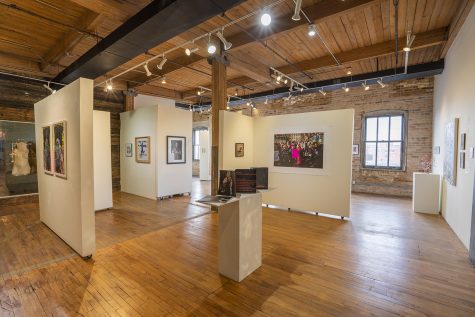 Sitting in front of her camera with her hair uncovered and wearing her late mother's nightgown, Verneda Lights flashed a furious expression as she captured a self-portrait.
Lights later modified the work, titled "Fury," by lining the curvature of her face with vibrant swatches of yellow, red and green, crafting the barbed wire word "NO," which ascends from her tongue.
During her artistic process, Lights reminisced on the 11 years she spent as her family's caregiver, frustrated with the "unfairness" of the medical establishment, as well as the burden black women carry within America's socioeconomic structure. Often these women do not have control over their own bodies, the right to protest or working protections, she said.
Lights is one of 39 artists from Chicago, and across the world, who will be showcasing their artwork as part of the free "Suffra-Jetting" exhibition at Woman Made Gallery, 2150 S. Canalport Ave., Friday, March 13 through Saturday, April 4.
"Historically, there's much to be angry about," Lights said. "It is useful to channel frustration into problem solving work. … You have to seek a remedy. For me, that remedy has been my art and also my writing."
Woman Made Gallery, a non-profit organization founded in 1992, aims to cultivate and promote work by female-identifying artists and hosts approximately eight group exhibitions a year, curated and juried by both artists and non-artists.
The gallery only accepts work from female-identifying and nonbinary artists and is run by a female board of directors, business women and curators.
According to a study by Artnet News and In Other Words, only 14% of exhibitions at 26 prominent American museums between 2008 and 2018 featured work by female artists.
Artist and juror Malika Jackson chose 43 pieces out of 300 works submitted by local and international artists for the exhibit. All works chosen fit the theme of the "female experience"—motherhood, racism, inequality, violence and spirituality.
Jackson said she spent two days combing through the submissions, looking at the art before the artists' names or statements. She said she sought pieces that captured the vision of her friend Candace Hunter, who originally came up with the idea for the "empowering" exhibition.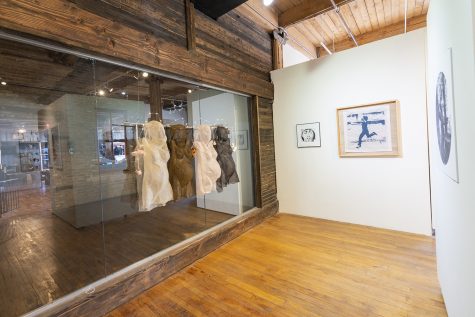 "It's important because we need a voice," Jackson said. "Many times female artists are not heard. That needs to be done in a wider arena … and not just doing art for Women's History Month."
The exhibited work takes on forms such as paintings, drawings, photography, printmaking, mixed media works and sculptures.
Kelly Witte, a freelance visual artist from Racine, Wisconsin, said this is her first time submitting work for the gallery, and her work was selected.
Titled "Not Up For Grabs," Witte's pop-art style piece uses a mixture of bright pinks and printmaking techniques to make a blatant political statement on then-candidate Donald Trump's statement "Grab 'em by the p—y," while subtly touching on issues of women's health and sexism.
"I hope it's an opportunity for [viewers] to discuss their own opinions and beliefs," Witte said.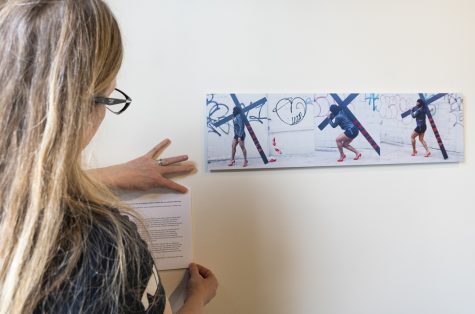 MahlÕt Sansosa, an artist who practices performance photography and is currently residing in Brazil, submitted a piece that spoke to the African diaspora and black women specifically, exploring nationality, sexuality, femininity and religion.
In the photo series taken in Dar es Salaam, Tanzania, an Islamic nation, Sansosa is seen in a short black skirt, a hijab and red high heels—symbolizing an aggressive form of femininity. Sansosa also carries a large cross in the photo that reads "Africa" to represent the burden women bear in society, Sansosa said.
The process of performance photography is "durational," Sansosa said, and can take years to fully complete because she is physically living through the work.
Deborah Hirshfield, an artist from Evanston, Illinois, who taught art and music at Chicago Public Schools for 20 years, said she interpreted the theme of this exhibit as women suffering and "jetting," or pushing through hardships.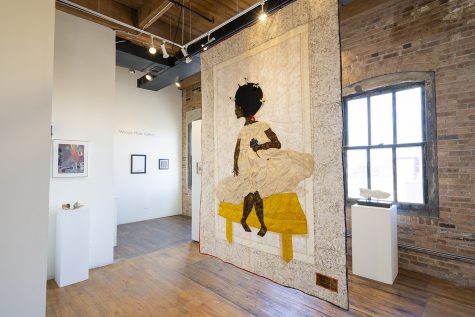 Combining her interests in feminism, women and love of fiber, Hirshfield worked tirelessly in her cramped basement to create the piece "Madonna" with hanging baby shoes, pregnant mannequins, fabric and LED light halos.
Gallery coordinator Marta Kowalska-Porcz said since all exhibits are free and attract approximately 3,000 attendees annually, the gallery relies on funding from organizations and its membership.
While the exhibit celebrates Women's History Month and the 100th anniversary of women's right to vote, she said it also acknowledges the racially divided legacy of suffrage and the fact that there is more work to be done in terms of true equality.
"We hope that it will encourage people to use their rights to vote, to realize there are people who are still discriminated [against] for some reason, and they're not able to vote," Kowalska-Porcz said. "We just want people to be aware. … It's not only political about the vote, but it's also women's experiences throughout the years."
The opening reception of the "Suffra-Jetting" exhibit will take place Friday, March 13 from 6–8 p.m. at the Woman Made Gallery.
Correction 03/08/2020 at 2:20 p.m.: A previous version of this article stated in the incorrect hometown of Deborah Hirshfield. The Chronicle regrets this error.