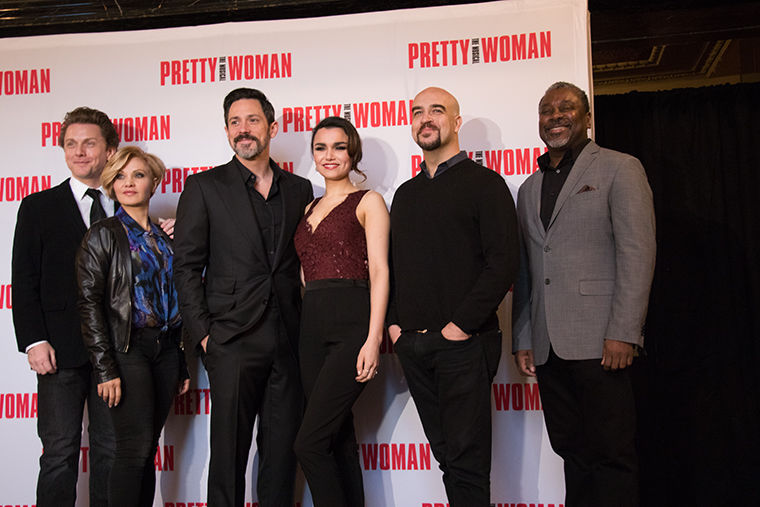 Erin Dickson
In a modern update of the classic Cinderella fairytale, "Pretty Woman" tells the story of Vivian Ward, a Sunset Boulevard prostitute who unexpectedly finds love in Edward Lewis, one of her clients, and empowerment with the help of friends. 
"Pretty Woman: The Musical," based on the 1990 film of the same name, will premiere in Chicago March 13 and play for five weeks at the Oriental Theatre, 24 W. Randolph St.
The actors discussed healthy female friendships, the process of taking a story from screen to stage and the experience of originating a role in a brand new musical.
Orfeh will be portraying the role of Kit De Luca, a wisecracking prostitute andVivian's supportive best friend.
THE CHRONICLE: How are you empowered by Kit?
ORFEH: The reason I feel a great affinity for Kit is that she is actually an incredibly good friend. She is very supportive of Vivian and what Vivian wants to do. There is such a real friendship there and we don't often see women being supportive of their female friends. This is one of those times where I am very lucky to present that.
Eric Anderson plays Mr. Thompson, the manager of the Beverly Wilshire Hotel, where the show takes place, as well as the Fairy Godmother-type for Vivian.
THE CHRONICLE: How does the musical score relate to the show?
ERIC ANDERSON: [Bryan Adam's] songs enhance the characters. It's really smartly done. [Adams] and his partner, Jim Vallance, have written many of the greatest rock hits and anthems and you do come out humming the songs. These songs enhance what people already know about the movie as well. They expand the story into the strong musical it has become.
Jason Danieley is portraying Philip Stuckey, who tries to thwart the romantic relationship. 
THE CHRONICLE: What are the messages of this production?
JASON DANIELEY: Women can do anything they want. Vivian is a victim of her circumstance. She grew up in Georgia without a lot of money: She was kicked to the curb. She finds herself following a dream to go to California but still not being able to raise herself up. She's sort of like Cinderella in the ashes. When Prince Charming comes into the story, he's not the one that saves her entirely. The last line is "and she saved him back." It's not just how Cinderella is saved by a man. They do it together.
The role of James Morse, owner of a troubled shipbuilding company, which the male lead Edward Lewis plans to take over, is portrayed by Chicago-based actor 
Kingsley Leggs.
THE CHRONICLE: Do you have any advice for college theater students?
KINGSLEY LEGGS: Work as much as you can. Work begets work.  As soon as you can, start thinking about what you want from this business and where you are going. That is not necessarily something I thought about when I was young. The business will tell you what it wants from you, but you need to know what you want from it.