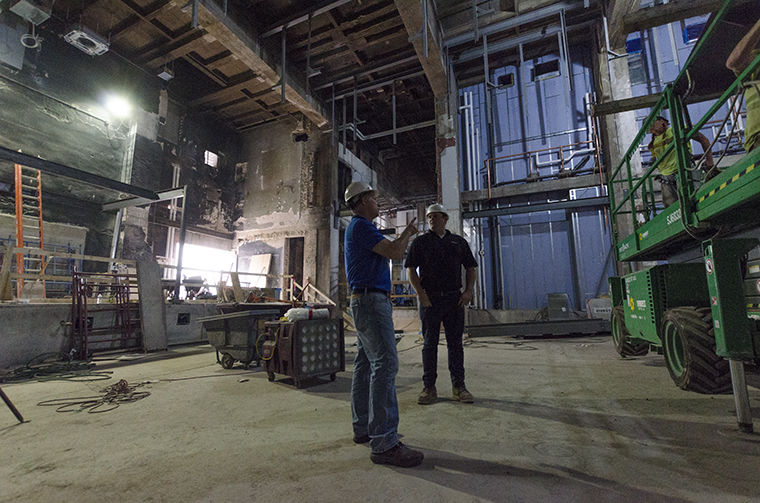 Mackenzie Crosson
A $1 million budget increase for the renovation to the Getz Theatre was needed after a large amount of asbestos was found over the summer, requiring additional painting in the upper floors of the building and changing the carpeting, which were not included in the original plans.
Columbia announced plans Oct. 4, 2016, to redesign the 1929 performance space at 72 E. 11th St. into courtyard-style stage and seating, estimating two years for project completion, as reported Oct. 10, 2016, by The Chronicle.
The building's demolition began in spring 2017 and took about two months to complete, according to John Kavouris, associate vice president of Facilities and Construction. Renovations to the building, overseen by Gensler, an international architectural firm, will give the Theatre Department a modern space to be used for performance space and classes.
Kavouris said renovating an old building into a state-of-the-art academic theater was tougher than building a new space. Additions include a costume shop, a backstage area, three dressing rooms and a scene shop that will allow sets to be built in the theater and have set pieces easily moved in and out.
The cost of the renovation was previously estimated at $9 million and includes a new light lab, as reported by The Chronicle.
Construction is on schedule, despite the unexpected amount of asbestos in pipe insulation and flooring found, Kavouris said.
When disturbed, asbestos-containing materials release airborne fibers that can scar lung tissue and cause cancer and  mesothelioma, according to the Environmental Protection Agency and the National Cancer Institute.
"There's asbestos everywhere," Kavouris said. "We found it in some places we expected, [but] we also found it in some places we didn't expect. Every time we find it, we immediately abate it. It's a very common issue in old buildings like this."
Albert Williams, senior lecturer in the Theatre Department, said the renovation of the Getz Theatre is going to offer more diverse production possibilities and excite future students joining the Theatre Department.
"The theater was originally built as a concert and assembly hall," Williams said. "It did not have a backstage. It was a decent performance space, but we did not have any good backstage facilities or dressing room facilities because it was not intended for a full out theatrical production."
Faculty and staff will begin training during J-Term on how to use the systems and technology offered by the refurbished theater, according to Kavouris. 
Zoe Savransky, a junior theatre major, said she is looking forward to having a theater with such diverse appeal to students.
"It's going to be a really awesome use of space," Savransky said. "It's going to be a really interesting challenge of what kind of space, what kind of shape can we make. It will be an interesting challenge for not only directors but also actors as well as tech people."