Washed out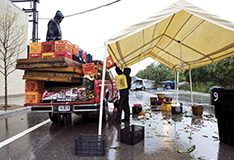 By Lauren Kelly Josh Sambdan
September 22, 2008
While strong storms battered the Chicagoland area on the weekend of Sept. 13-14, many city events, festivals and their vendors suffered.
Amid the storm's record rainfall, topping off at 8 inches of rain by Sept. 14, the Lakeview East Festival of the Arts, Chicago Celtic Festival and New Maxwell Street Market were canceled before their final day, while the annual Renegade Craft Fair braved the storm to bleak turnouts.
The Lakeview East Festival of the Arts attempted to generate crowds on Sept. 13, with few visitors showing interest as rain began to fall, festival officials said.
"It was a difficult decision, but ultimately we felt it was best to call the event," said Maureen Martino, executive director of Lakeview East Chamber of Commerce.
Meanwhile, the Celtic Festival, held in Grant Park, was fairly successful on Sept. 13, according to the Mayor's office, but the unprecedented weather led to Sept. 14 events being canceled.
"We were very surprised at the amount of people who turned out [on Sept. 14] despite the rain," said Mary May, spokesperson for the Mayor's Office of Special Events. "[But] we're kind of at the mercy of the weather gods."
Gaelyn Larrick, owner of Unique Celtic Jewelry in Oregon and a long-time vendor at the festival, opted not to come to the Celtic Festival this year.
"We just had a feeling [the weather would be bad]," she said. "If we had come, it would have ruined us."
Other vendors at the Celtic Festival weren't so lucky.
Anne McKeown, a vendor at the Celtic Festival, knits and imports handmade sweaters from Ireland.
She said she paid $650 for the booth rental, and did $700 of business on Saturday for a $50 profit.
"It was nice to be there, but we all lost [revenue]," McKeown said.
But, by canceling the festivals, police, paramedics and firefighters who had been allocated for the event would better serve the public by helping flooded city residents, said Celtic Festival Manager Erin Bauer.
"It didn't make sense to have a festival when there were people with flooded houses," Bauer said. "It wasn't prudent; it didn't look good."
The New Maxwell Street Market, which was set to make its debut at a new location on North Des Plaines Street on Sept. 14, was expected to draw a large crowd, market officials said. Due to the rain, however, the festivities were canceled on Sept. 14.
"When I got there at noon, there was just a big open space and three vendors packing up," said Nathaniel Goddard, a second-year transfer student at Columbia. "There definitely wasn't a market."
The Renegade Craft Fair went on as scheduled, however, though organizers and vendors said they definitely felt the effects of the heavy weekend rains.
"We made it through the first day and had some sales, but [it was] way less than usual for a fair like Renegade," said Jess Gonacha, an artist from Georgia.
On the fair's last day, Gonacha came back only to discover her booth in the middle of a disaster area of wind-scattered tents and debris, she said.
"Saturday, [Sept. 13] was the worst, and we were thinking we had to close up due to the rain," said Phillip Retuta, a graphic designer who had a booth at the fair. "We stuck it out, though, and I was surprised at the number of people who braved the weather."
Retuta and other vendors were not alone. Despite the rain, Sue Daly, one of the organizers of the Renegade Craft Fair, said she estimated that 80 percent of the registered vendors participated anyway.
Attendance was definitely impacted, Daly said, but a lot of people still came out for the fair.
"This was my first Renegade as both a visitor and a vendor," Retuta said. "Even though we didn't make a huge profit, as some of my friends had in past years, I'm willing to do it again."