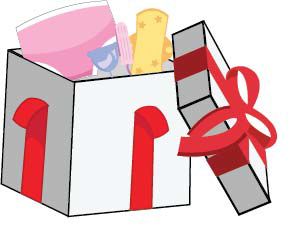 Jeremy Marynowski
Santa Claus is coming to town, and Aunt Flow is coming with. People looking to get their hands on homemade jewelry, clothing, pottery, pins and more can shop at the second annual Crampus Holiday Market where the only ticket to entry is a donation of menstruation products for those in need.
The holiday market is a play on "period cramps and Krampus, the antithesis of Santa Claus," according to a Nov. 27 email statement from Event Organizer Mickey Alice Kwapis.
Krampus is a European folklore half-goat, half-demon who punishes misbehaving children during the Christmas season.
Kwapis said Crampus benefits the Chicago Period Project, which helps women who live below the poverty line to "experience their periods with dignity."
Crampus will be held Dec. 18 from 6 p.m. to 11 p.m. at Emporium Logan Square, 2363 N. Milwaukee Ave. The market will feature 25 female vendors who want to support change to their community, Kwapis said.
One of the vendors at the event will be Powers Handcrafted Jewelry, which sells simple jewelry with a twist.
"A lot of my inspiration comes from science and nature. I'll start with a cool fossil or stone and try to come up with a design around that," owner MarandaPowers said. "I'm making necklaces with fossil Megalodon shark teeth."
This is Powers' second year at Crampus, and she said the event is special because it not only helps women, but small businesses and the community.
"More [of the] money that you spend with a small business or an artist goes back into the community versus if you shop at a chain store," Powers said. "When you shop smaller and go to a market, you're getting unique things and getting things that are ethically made."
Emilie Bouvet-Boisclair is a potter and the creator of Twinette Potterie, a Chicago-based shop that specializes in one-of-a-kind pottery. This is her first Crampus show, but she has participated in the Galentine's Day market Kwapis holds in February, she said.
Bouvet-Boisclair said she hand-paints many of the items with nature and animal-inspired designs.
"I absolutely love the dinosaur tail handle mug. They are hand-painted mugs with little garden scenes on them," Bouvet-Boisclair said. "Each one is different, and I pick out different dinosaurs for each one."
Bouvet-Boisclair will be selling ring dishes for $12, a classic mug for $36 and hand-painted work can range from $70 to $85, she said.
"This event pulls from craftswomen in Chicago, it's an all-women vendor event. This type of event is touching on some aspects of society that are overlooked," Bouvet-Boisclair said. "This is a fun event because even people who don't menstruate would be encouraged to bring supplies."