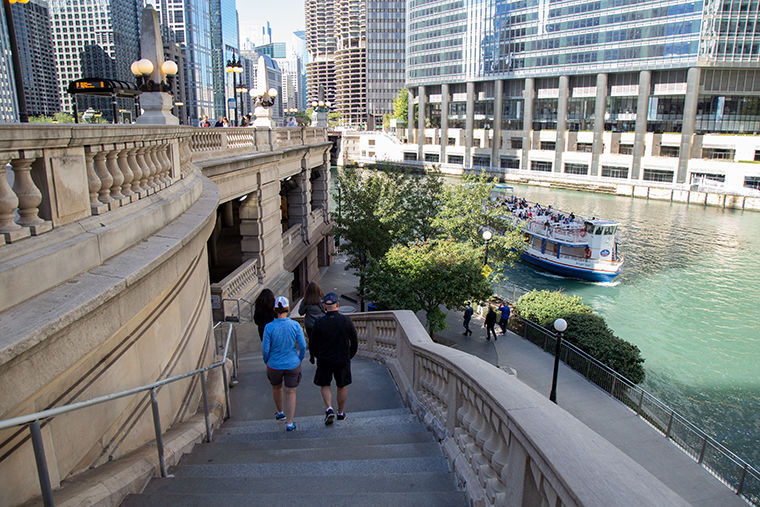 Steven Nunez
Local business owners leapt at the opportunity to be highlighted by the city with the development of a Riverwalk marketplace, set to open spring 2019.
Adding vendors to the Riverwalk allows Chicago businesses to show off their hard work, said Michelle Woods, concessions project manager for the Chicago Riverwalk.
"We want people who are down on the Riverwalk to be ambassadors of our city, and not only reflect the cultural diversity of it, but represent the best of us," Woods said.
Business owners were able to apply for one of 10 vendor spaces, she added. A baker turned in her application and apologized for the sugar-covered pages while another told Woods she could not submit any more information the next Monday because she had four catering jobs that day. Woods said this exemplified the grueling work and dedication of being a small business owner.
The Riverwalk got a makeover in 2016 with the addition of cafes, seating areas and artwork. The marketplace will promote diverse communities and local businesses, according to a Sept. 19 press release from the mayor's press office.
"It's good to support small businesses, but you have to find the right balance of how much is down here," said Laura Bishop, a Bucktown resident who routinely jogs along the river.
Luis Jimenez, an Elmwood Park resident, said there would ultimately be more pros than cons to the implementation of the marketplace.
"It's always nice to boost businesses that really need help," Jimenez said. "You get tired of seeing all these corporate places."
Woods said she pictures locals and tourists walking through the marketplace and discovering local businesses like a Mexican restaurant from Little Village.
They may become intrigued to visit, shop and dine in those neighborhoods.
Chicago was inspired to expand Riverwalk projects after seeing financial success by long-term vendors. Woods said she expects revenue from Riverwalk tour boat fees, concession fees, sponsorship programs and other projects to more than pay back the loan that financed it.
"The only negative is balance," Bishop said. "If you get too much down here, when you reach a certain level of crowding it becomes harder to use the space."
The project is meant to increase opportunities for local businesses to get some time in the limelight, as well as to reap the Riverwalk's financial success.
Nearly 40 applications were submitted to be part of the project, according to Woods, and the next step will be for a committee to review them.
The evaluation committee, in partnership with the Chicago Department of Cultural Affairs and Business Affairs and Consumer Protection, began Oct. 1.
In about six weeks, Woods said she expects to start sending out congratulatory emails, with the hope that all 40 are accepted. They will then narrow the field down from there.
The BACP will work with the businesses that are not accepted to help them to be eligible for the next round of vendors, Woods said.
"We have so many interesting and diverse cultural neighborhoods around our city," Woods said. "If the regular citizen of Chicago is [the owner] of a small business, they have an opportunity."