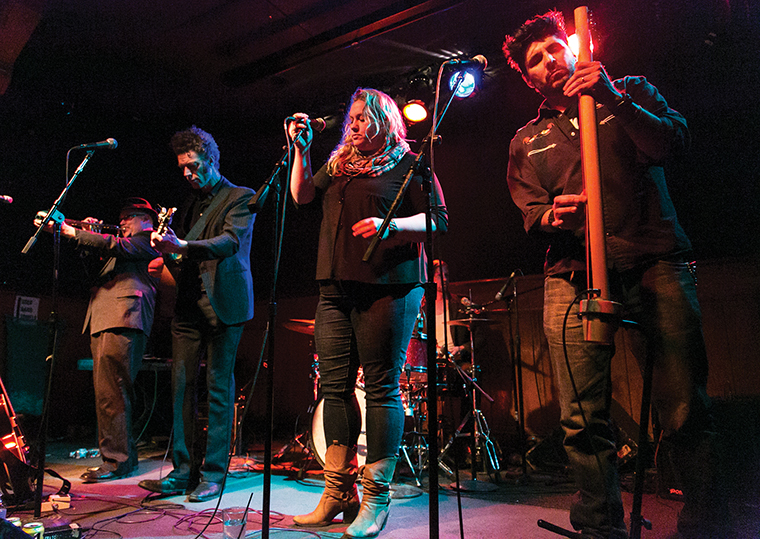 Grace Wiley
An experimental, string-heavy, folk-country group, Honey and Buffalo, tried its best but didn't quite mesh in the intimate setting of Schubas Tavern, 3159 N. Southport Ave., on a frigid February weeknight. Honey and Buffalo may have been headlining the show Feb. 11 at Schubas, but We/Or/Me filled the tiny room with greater ease.
The night began with a rather long set by the opening act, Susan Voelz, on violin, accompanied by a cello player and backing drum tracks. By playing songs that highlight the violin while employing pop elements and poetic lyrics, Voelz seemed impressive. In her song "In Seed Comes Fruit," Voelz's sweet-sounding voice and violin skills proved enviable. The sound of classical violin and cello over live pop drum beats  would provide freshness, but substituting backing tracks caused the performance to fall flat, particularly when the wrong track was played and another finished before the live music. 
The second band, We/Or/Me, revived the night. The band consists of one man, Bahhaj Taherzadeh, and an ever-changing variety of pickup musicians. After home-producing an EP in 2008 called Ghostwriter and a debut album in 2011 called Sleeping City, Taherzadeh released his first studio album titled The Walking Hour in 2013. 
Tetrahedra engaged the crowd with his music and self-depreciating humor, making it clear that he considered the show an interaction between the musicians and the audience, not just a traditional, stuffy performance. 
As he started playing the first notes of his set, he said, "We are We/Or/Me and we're going to play some sad songs for you." He later followed up this bit with a story about writing a song while watching "Spider-Man 2." Finishing off, he ended by describing the band's only happy song, "Old Joy," as an upbeat tune about grief. 
The set offered more than just humor and personality. With a stripped-down approach to a Mumford & Sons-meets-Fleet Foxes sound, the music felt warm and inviting. Playing tracks off his new album such as "Light Inside Us" and "Time," We/Or/Me's set united folk-lovers, as the story-telling genre should. The group he surrounded himself with was obviously talented, shown by their skilled guitar playing, mastery of the stand-up bass and use of a shruti box—a wooden instrument used to produce drone. The melodies were catchy and the lyrics were simple but effective. The nearly empty room was quickly filled when Irish-born, Chicago-cased We/Or/Me took the small stage and totally owned the crowd.
By the time headliner Honey and Buffalo set up, the crowd had shrunk to about eight people. Sitting at the feet of a lively band playing for an empty room is awkward, which really robs the desire to dance along. 
Maggie Schultz and Kennedy Greenrod are the duo behind Honey and Buffalo, and paired up a few years ago to release a self-titled album in March 2012. They have each perfected bird-like country vocals, and the accompanying saxophone, keyboard and stick bass gave the guitars and drums character. 
Playing songs like the upbeat, soulful "June" with the lyrics "She was dressed in lover's lace/ They danced in whiskey fields/ He ain't no saint but he ain't no crook," Honey and Buffalo aim for an old-timey, Southern feel that isn't too serious, unlike We/Or/Me's poignant lyrics, such as "All the days/ Where have they gone" set to emotionally charged music. 
Honey and Buffalo's songs were just too upbeat and cheesy to complement the rest of the lineup. The corny artistry of Honey and Buffalo was wasted on an audience that really wanted more of the refreshing gloom We/Or/Me supplied in the small intimate space of Schubas.