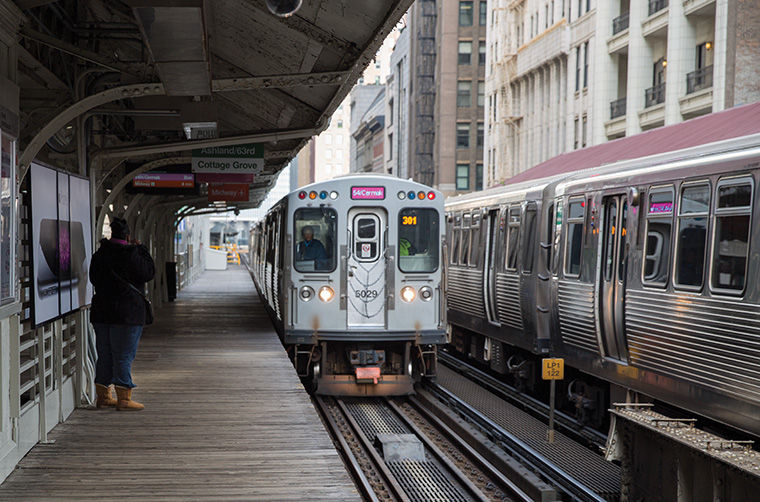 Kelly Wenzel
The Chicago Police Department and Chicago Transit Authority are set to begin random screenings of passengers for explosives on Nov. 3 in an effort to increase public safety measures on Chicago trains and buses. 
 "While there are no credible threats to Chicago or to the region's public transportation facilities, Chicago is taking this step, as other major cities in the U. S. and around the world have already done, to ensure the safety of residents and passengers," said Police Superintendent Garry McCarthy  in an Oct. 24 CPD press release.
The program will be implemented  one station at a time and be conducted by four or five police officers per day. The officers will swab bags with a stick capable of detecting explosive material the process will take less than one minute to detect a threat, according to the press release. If a passenger's bag comes back clear of explosive residue, then he or she would be able to proceed, but if it comes back positive, the officer will ask to inspect the bag thoroughly and debrief the owner. If passengers refuse to be screened, they will be subject to arrest.
The city's efforts to ensure safety on the CTA have some Chicagoans questioning the tactics and practices the CPD plans to use.
Marcus Spencer, senior project lead for the Chicago Urban League, a nonprofit organization that advocates, educates and collaborates with Chicago businesses to help people find jobs, housing and education in communities around the city, said the counterterrorism effort will invite unnecessary racial profiling. 
As a black man, Spencer said he is stereotyped and frequently followed when he walks into department stores, making him feel embarrassed and disrespected.
"I think they should be very cautious about how they engage," Spencer said. "It's a thin line between your freedom being taken away and being safe, so the rules of engagement have to be clear, and  police need to have substantial evidence to engage."
Elijah Collins, a junior radio major and Roseland resident, said he does not agree with the new system  because it  can easily slip into racial profiling. However, he said if the CPD and CTA screen every passenger at every station, it could eliminate the possibility that minorities may feel stereotyped based on their color or religion.
"I really think it's wrong," Collins said. "They should not be checking anybody—unless they look suspicious. Everyone has a right to walk around [without being searched]."
However, Danny Johnson, 54, a former Pace bus driver and West Side resident, said he thinks the program is a reasonable measure. 
"As far as safety concerns, I think it's appropriate," Johnson said. "I [would] rather them do it than not do it—lots of people [could] get hurt. I have family members who ride buses and L's and I wouldn't want any of them hurt. I would feel safer."
Instead of randomly searching passengers, Spencer suggested the CTA should monitor mannerisms and behaviors and if someone's bag looks peculiar.  He said officers should check that  person. 
Ed Yohnka, director of Communications of Public Policy for the American Civil Liberties Union of Illinois said he does not know what else could be done instead. 
"We are very interested to see how it is that the CPD and CTA implement this program and we'll be monitoring it very closely," Yohnka said. "If there isn't a better way to do it and that's one more thing that we'll be watching for when the program gets rolled out."
Collins said the new safety measures could violate people's rights and stir controversy throughout the city and even the state. 
"It's kind of an invasion of privacy," Collins said. "It could be me or you, and I wouldn't want to be checked because I know for sure I don't have anything on me. Hopefully, they don't find [explosives on anyone] and it goes away."  
Spencer said the counterterrorism effort to ensure safety is unconstitutional and has the potential to enrage passengers and Chicagoans at large.
"That's really [a] violation of freedom," Spencer said. "If you don't have a search warrant, why are you searching me? I think [the screenings] could be taken up with the Supreme Court."
But Johnson said he sees the screenings as a warranted safety precaution and necessity.
"I wouldn't want to get on the L  or the bus and [have] one of these dirty bombs or chemical explosives blow up." Johnson said. "If a person is not doing anything wrong, then they shouldn't have [a] problem letting them [look through his or her] bag."