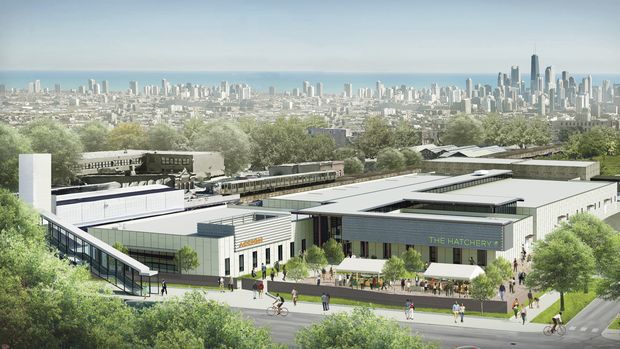 Courtesy City of Chicago
East Garfield Park will soon become home to a $32.4 million food and beverage incubator called The Hatchery Chicago.
The Hatchery, scheduled for completion next year, will be a 65,000-square-foot facility with space for 56 kitchens and room for around 75–100 food industry entrepreneurs. Located at 320 N. Damen Ave., it will also have dry-cold storage, loading docks and meeting and office spaces for local food startups, according to a Sept. 6 press release from Mayor Rahm Emanuel.
The incubator is expected to create 150 jobs in its first year and 900 jobs in the next five years.
"[East Garfield Park is] an under-served area and a food desert, and our intention is to help vitalize the community there," said Natalie Shmulik, food business consultant for The Hatchery. "Our mission is economic growth and [to create] job opportunities."
Shmulik said the facility will also provide seminars, workshops and one-on-one business consulting. Ultimately, it will be a resource center that aims to create a stronger community, she added.
The incubator will be financed with $7 million in Tax Increment Financing funds and will receive from the city 12 vacant lots valued at $150,000 for one dollar each. Additional financing will include $8.5 million in New Markets Tax Credits, with various grants and donations from the Kellogg Co., ConAgra Foodservice and the Walton Family Foundation, according to the press release.
Local businesses should be excited about the opportunities provided by The Hatchery because it can connect small, new companies to larger ones, said Lisa Gundry, an entrepreneurship professor at DePaul University. Business incubators can be even more helpful if they focus on specific industries like food and beverage, she added.
Inca Tea is one of several businesses that has been able to work with The Hatchery, according to Ryan Florio, founder and CEO of the Cleveland-based company, which sells tea to Bed Bath & Beyond, Whole Foods and other stores nationwide.
"My problems are very similar to a lot of other food startup companies," Florio said. "The networking and knowledge in the food industry [is helpful because] I don't come from a food background."
The Hatchery also has mentored Viet Nom Nom, which used to be a small grab-and-go, pop-up Vietnamese restaurant in Evanston that catered events, according to Alan Moy, co-owner of Viet Nom Nom.
After the 2015 launch, Moy and his business partner, Noah Bleicher, realized they were not experienced enough in running a restaurant and lacked the connections and resources needed to grow. However, The Hatchery helped connect them to local bread and equipment companies, providing the tools they needed to succeed, Moy said.
The Hatchery was like having an internal department that is constantly working on relationships and building connections with people, Moy said. The Hatchery turned Viet Nom Nom from a grab-and-go restaurant into a promising venue that plans to quickly expand throughout Chicago and beyond.
"I tend to think that we have a good game plan and that we'd succeed," Moy said, "but without The Hatchery, I don't think we would have nearly the depth and quality of resources."