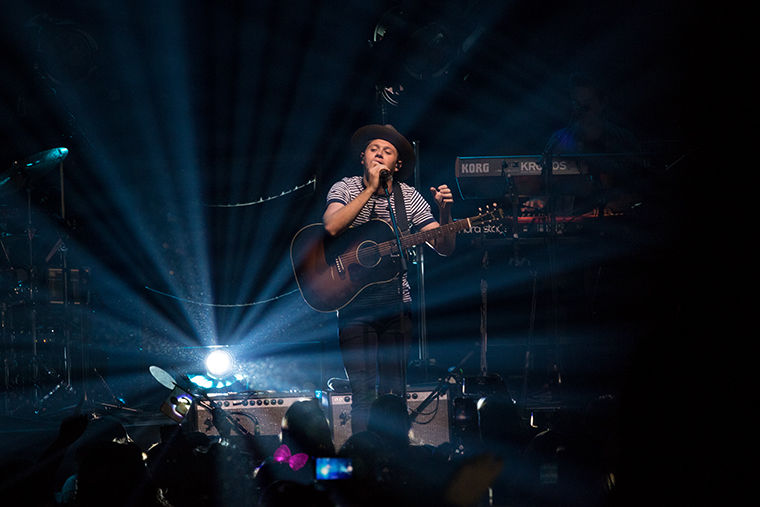 McKayla Braid
Niall Horan doesn't want anyone to forget his roots.
The 24-year-old paid homage to both his former One Direction days and his Irish heritage during his Nov. 15 performance at Rosemont Theater, 5400 N. River Road.
Horan made sure to remind the audience that Rosemont Theater was the first Chicagoland venue the boyband ever played back in 2012. Then, in front of the crowd of about 4,400, he did a few Irish jigs and later tied the Irish flag to his microphone stand, just in case we forgot where he came from. 
It would be nice to say Horan was born to be a soloist—and it would sure please many fans to read—but he wasn't. And to be fair, it seems as though becoming his own entity outside of One Direction isn't Horan's goal. He didn't go on stage dragging his nicely booted feet, but he didn't command the stage either. It was only during the more upbeat songs that Horan let loose and uprooted his feet from in front of the mic. 
Horan's modest 21-date tour has a set list of fewer than 15 songs, including a cover of One Direction's "Fool's Gold"—that is, admittedly, better than the original—and he flawlessly played guitar in nearly all of them. At one point, Horan was alone on stage, with a light shining behind him as though he was ready to forgive us all for our sins. 
Though Horan was not accompanied by his former bandmates, the crowd still screamed at a frightening level with utter abandon as if it were a One Direction concert at Soldier Field. Some brought red paper-mâché hearts to tape to the flashlights on their cellphones for the ballads, resulting in dancing heart-shaped shadows on the walls. 
Fans' love for Horan was evident every moment. When he asked them to quiet down during the title track from his album, Flicker, and switch off their cellphones, they did so with barely any hesitation and an unparalleled reverence.
The audiences vulnerability stole the show, no matter how good Horan sounded. Young girls danced in the aisles and giggled as the security guards scooted out of their way and everyone sang along to the powerful ballad "Mirrors," about a girl craving comfort. 
In this day and age, it's a bit of a miracle for young women to find a safe space that allows them to let go of their inhibitions, but this was that place, for one night, in a theater on the outskirts of Chicago.
It was as if when the lights went down, everyone's worries were left out in the cold. Though Horan has been performing for years, the weight of thousands of young people's emotions packed into one room, directed at you, must be overwhelming. But Horan took it in stride, and when he was done, the attendees ran out of the venue, some tipsy or carrying bags of merchandise, but into the cold and real world they went.