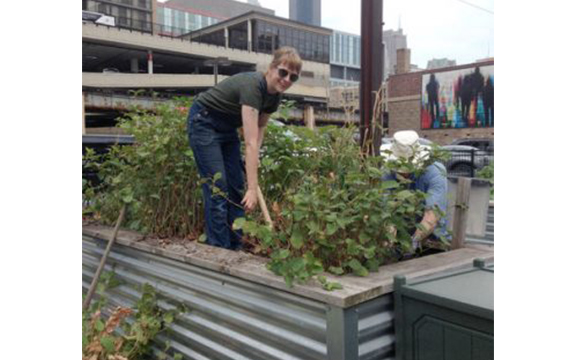 Melissa Potter, an associate professor in the Art and Art History Department, arrived at the Papermaker's Garden July 20 to meet a local artist whose work she planned to host there at an upcoming event.
Instead of the garden's 10 plant beds, she found a construction crew demolishing the garden—four months before garden artists were told construction would start.
Potter said that the crew foreman allowed her to save the plants that had not been removed, about 40 percent of the total. She and several other volunteer garden participants then replanted them at various locations throughout the city.
"If I hadn't been there, the plants were slated for the dumpster," Potter said. "Unfortunately, some of them got buried. But this team, whose job it was to get those as quickly and efficiently off the site as soon as possible, took their time to move them. That was extra work for them. They didn't have to do it. I was pretty emotional when I got to the site."
The Papermaker's Garden, located at 754 S. Wabash Ave., and the parking lot next to it will be the location of the new $50 million student center, scheduled to open in Fall 2018 with construction slated for the upcoming Fall 2017 Semester. Potter said the members of the garden were unaware of any construction or demolition plans prior to the October groundbreaking for the center.
"My understanding is it was a communication flaw," Potter said. "What I do know is that the president has always been a major proponent of the garden. I don't think it was willful, but I still don't quite understand why they had to start so early."
Many organizations outside of Columbia use the plants from the garden, including the Experiential Farm Network, Illinois Institute of Technology and University of Wisconsin. Potter said graduate students were using plants for thesis research, the Fashion Department was using plants for dyes, and she had also planned to use some of the garden's materials for an upcoming Columbia class.
Gail Merritt, co-founder of The Alliance for a Greener South Loop, said her organization has a long history with the garden. In 2012, the group recognized interdisciplinary book and paper arts alumna Alex Borgen for founding the garden.
"I love Columbia as a neighbor, I like to think we can have a great working relationship with them but I thought, 'Wow, they've got some communication breakdown going on in there right now,'" Merritt said. "I choose to believe that it wasn't on somebody's radar about services, there was a whole communication involved in this, and they needed to reach out."
Merritt said she visited the garden a few days after the demolition and was saddened to see the result.
"It looked like people had just given up on what had been buried essentially," Merritt said. "As a gardener, a plant-lover and a papermaker, it was just really sad."
Stephen DeSantis, a 2008 interdisciplinary book and paper arts alumnus and former director of academic initiatives for the Office of the Provost, is a member of the garden and said he was shocked when he heard about the demolition in an email from Potter.
The absence of communication is a lack of common courtesy to those involved with the garden, DeSantis added.
"You don't just wake up and decide to build a building one day," he said. "Everything's on a schedule. Upper administration is fully aware of the academic and research work that's being done in the Papermaker's Garden so for them to not give notice is sort of inappropriate. I do know that a number of other faculty in the Art and Art History Department as well as students and alums have been notified, and people are just sort of horrified at the lack of having the courtesy to send us a simple email a few days in advance to offer the opportunity for a solution."
College spokeswoman Anjali Julka denied an interview with President and CEO Kwang-Wu Kim but said scheduling-related issues around the preconstruction process affected the college's coordination with those involved with the garden.
"The partial removal of the Papermaker's Garden is a regrettable result of an operational error, one which affects an asset directly related to academic activities," Julka said. "President Kim has made it clear this should not have happened, apologizes to those who were impacted, and has directed his senior team to work on interim and long-term solutions for the Papermaker's Garden. The administration is grateful to Associate Professor Melissa Potter, and to all who have successfully endeavored to salvage and recover as many Papermaker's Garden projects as possible."
Duncan MacKenzie, Art and Art History Department chair, said he was surprised construction had begun early but was uplifted by how the community members worked together to save the remaining plants.
"I feel like over the next couple of days it emerged clearly that the college was owning it and that we were all on the same page," MacKenzie said. "Nobody thinks it should've happened in the first place, but everybody has nailed it since then."
MacKenzie said he has received communication from the college that there will be no further developments to the student center until the October groundbreaking, which is yet to have an exact date, according to Julka. Although a permanent location has not been decided, a new Papermaker's Garden on the student center's rooftop once construction is finished in 2018 is being considered, he added.
"What we're doing right now is working through a solution structure that has us harvesting out some of the plants that are currently in the Papermaker's Garden as we move into October, moving towards having a couple of semi-fixed beds in the Sculpture Garden for harvesting next spring, summer and fall and then we are working on the solution for where the Papermaker's Garden will find its new, permanent home," MacKenzie said.