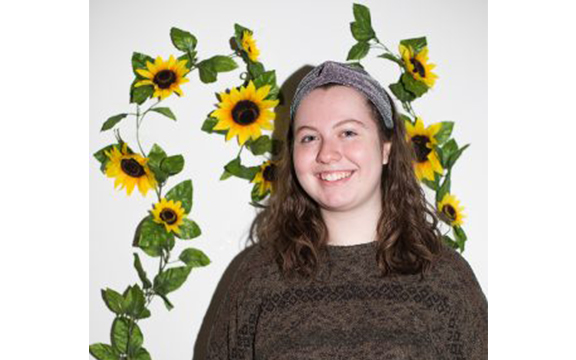 From hosting events to booking talent, the Student Programming Board works hard to make sure students never have a boring day on campus.
SPB spoke with The Chronicle about the challenges of having a leadership role on campus, the importance of participation and the meaning of "owning it" in keeping with the theme of this year's Manifest.
Senior business and entrepreneurship major Carolyn Matyus is the director of finance and sponsorship.
THE CHRONICLE: What does it mean to you to be a part of an executive board on a college campus?
CAROLYN MATYUS: It's really honoring. When I was a freshman, I looked up to the people on the E-board, and I saw them as role models and where I wanted to be. They all had internships and were having all of these jobs and stuff. [That helped] me hone what I wanted to do and provided me this role model that I was able to look at. It is nice to know that there are people who look up to us and want to know how to plan these events so they can continue on in our footsteps.
What is your favorite part about being involved with SPB's finances?
I get to pick all the food. It's so exciting. I'm very particular with what I like and have very specific ideas of what kind of food goes with different events. Decorating in general, I feel like the aesthetic part of my job is my favorite part.The theme plays such an important role and you have to tailor everything you do around that.
Sophomore business and entrepreneurship major Madeline Brittingham acts as SPB's vice president.
What SPB accomplishment are youmost proud of?
BRITTINGHAM: I'm so proud of the diversity of events that we have had this year. In the past, we have kind of stuck to Big Mouth, an art gallery or a movie night. Nothing super original. This year we hosted Columbia's first-ever drag show, and we were just about 100 people over capacity for the venue. We had people standing outside to get in. It was such a success, and we raised over $600 for Columbia Cares. That is something that we want to carry on to next year.
What should students be excited about for Manifest this year?
We just started talking about our pop-up lounge today. This is something SPB does every year. Last year, we used the sculpture garden area right next to the mainstage, and we made our own sunflower patch because our headliner was Sunflower Beam. This year we are going to be taking the pop-up lounge to 9th and Wabash. We are going to make that into an insane and fun space. We were talking through some ideas today, and we are thinking interactive art and the kind of place that you are going to walk in and just want to take a million selfies.
Senior business and entrepreneurship major Ashley Vunderink acts as SPB's director of communications.
What are some of the challenges SPB faces?
ASHLEY VUNDERINK: Unfortunately, SPB isn't very diverse. We only have a couple males on the board. The rest is female, and we are primarily Caucasian. Trying to think of the whole student body is probably the number one complication for SPB in general. With my role, it would be graphic design requests. I'm a perfectionist, and I have a mental image in my head, and it can be hard to translate that because I'm not a graphic designer.
As director of communications, what specifically do you want to communicate to students?
Just because it is an on-campus event, does not mean it is going to be lame. That is a struggle for every [student] organization. No one wants to go to on-campus events. We have free food. We get catering, like Olive Garden for example. We get expensive places, and you can even come just for free food. [Students] are paying for it with the student activity fee, so come out, have fun and meet people.
As director of productions, senior business and entrepreneurship major Jim Monteforte books talent for events.
How will being a part of SPB benefit your career?
JIM MONTEFORTE:I graduate in the fall, so I have another semester left, but I want to book bands. So this is a good opportunity for me to step in through internships and other jobs and make connections since I'm working with bands. If you're interested in putting on events, you should join SPB because it is a good opportunity to do that.
Senior business and entrepreneurship major Elana Schmidt is the president of SPB.
The theme for Manifest this year is "Own It," so how do you own it?
ELANA SCHMIDT:  [One] thing I do with SPB is make general board meetings, and there has never really been a theme to these presentations, but I decided to do "dogs." I put a different dog every week on each presentation and I own it. I walk in happy and proud of these dogs that [I show]. If you ever come to a meeting, I'm always like "The dog of the week is BAM! Corgis," or something along those lines. It's not necessarily creating a sculpture or photography, but it is something I personally put my stamp [on] and I can say "Yeah, I did that."
What are your hopes for SPB's future?
It's like watching a baby grow up and go to college. I am taking on the mom role. I've been in this organization for three years, and now I'm not going to be a part of it. I hope they get more people involved because it is such a fun organization. We are all really fun people. It's a great way to meet friends. All of my friends are from SPB. I just want [it] to keep thriving.