Chicago goes ball out
By Kaylee King, Staff Reporter
September 1, 2008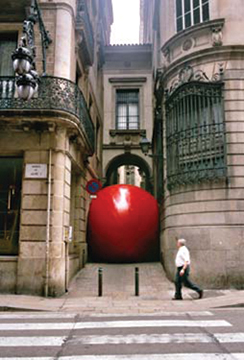 Don't be surprised to see a 15-foot tall red ball bouncing through Chicago's neighborhoods this month.
The RedBall Project, an installation piece by Chicago-raised artist Kurt Perschke and sponsored by Target, will travel to 15 locations throughout the city. The project originated in 2001 in St. Louis and has since traveled across the United States, Europe and Australia.
"This project is all about seeing and the way that we see things," Perschke said.
Perschke spent a month wandering the city to find the perfect venues to host the giant ball. At each potential site he measured the area to make sure the ball would fit, took photos and drew sketches of what the ball would look like in the space. Most of the venues are cultural spots, like Millennium Park; Michigan Avenue and Randolph Street; the Field Museum, 1400 S. Lake Shore Drive; and Federal Plaza, 230 S. Dearborn St.;but Perschke also chose a few unexpected spots like Wishbone Restaurant, 1001 W. Washington St. in the West Loop and the intersection of North and Damen Avenues in the heart of Wicker Park.
The RedBall Project was conceived when Sarah Smith, formerly of the Arts In Transit program in St. Louis, was looking for a project to expand the city's new light rail system and to educate the public of the transportation option. After sorting through many artists' portfolios, Smith chose to commission Perschke for the project.
"The RedBall helped to symbolize the possibilities of the future in a constructive way and did it with humor," Smith said, now president of Community Development Ventures in St. Louis.
But Smith said she thinks the RedBall Project will mean something else to Chicago. In a city with such architectural detail, those details can easily be forgotten, she said.
"The RedBall Project may draw attention to places that may have been overlooked, and it will make people look at spaces in a different way," Smith said.
The ball takes about 45 minutes to inflate and is made of PVC vinyl, the same material that inflatable rafts are made of. It will squish and conform to whatever surface it is sitting on, and visitors are welcome to walk up and touch it.
Nathan Mason of the Chicago Public Art Program chose to showcase The RedBall Project because it seemed suitable for Chicago.
"This just seemed like it was a good fit with our programs, and we liked that this installation could go out into the different neighborhoods of Chicago," Mason said.
Perschke said the RedBall Project has received great feedback, and he loves to see people smile when they see it. There has been little negative feedback, although on YouTube one user described Perschke as "an extraordinarily rich retard." But Perschke isn't too concerned about the issues brought up.
"You get the usual artist questions like 'Who's paying for this?' and 'What does it mean?' but the only bad thing I've heard is that it blocks the way sometimes," Perschke said.
Perschke grew up between suburban Oak Park, Ill. and Rogers Park on the North Side. His father and brother still reside in the city. In 2003, he was part of the visiting artists program at Columbia where he helped students in a Studio to the Street class take their artwork into public spaces. While on campus, he stayed in student housing at the Residence Center, 731 S. Plymouth Court. He is a full-time artist in New York City and has regular gallery and museum showings throughout the year.
Perschke said that he only does The RedBall Project about once a year but is excited for his upcoming trip to Chicago.
"I want The RedBall Project to be both famous and humble," Perschke said.