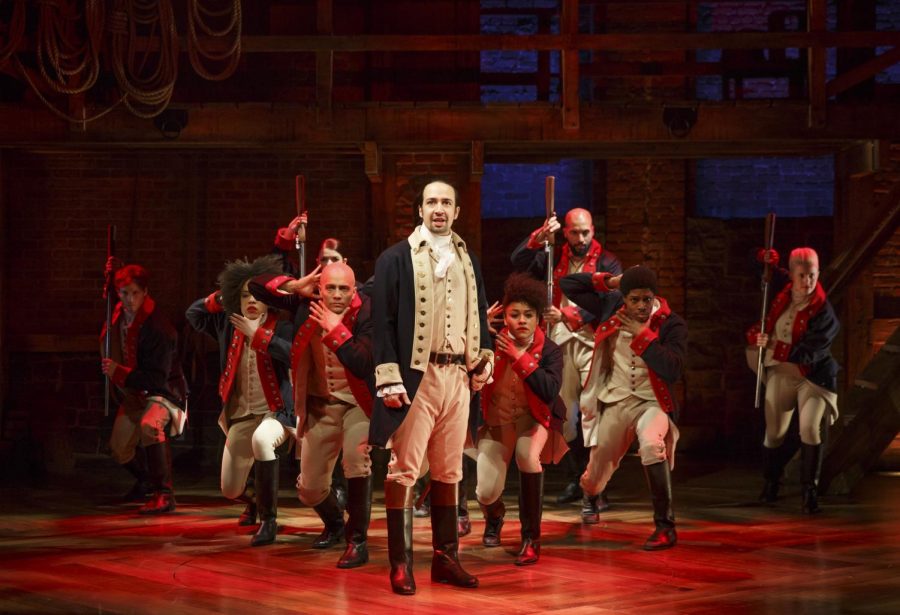 Jason Davis
Chicago theater fans "will not throw away their shot" when the groundbreaking blockbuster musical "Hamilton" starts its national tour in the Windy City Sept. 27 at the PrivateBank Theatre, 18 W. Monroe St.
"Hamilton" tells the story of "The 10 Dollar Founding Father" Alexander Hamilton. Written by and starring Lin-Manuel Miranda on Broadway, the show has racked up various accolades since its Broadway debut July 13, 2015. 
"Hamilton" won a 2016 Grammy for its cast recording, a 2016 Pulitzer Prize in Drama and a record 16 Tony Award nominations, the most nominations to go to any single musical in history, surpassing "The Producers" and "Billy Elliot."
Pre-sale tickets for the Chicago performances have already sold out. The show's producer, Jeffrey Seller, divulged in a recent New York Times profile that "Hamilton" rakes in more than $500,000 weekly on Broadway—a staggering profit for a modern musical.
Ashton Byrum, an assistant professor in the Theatre Department and coordinator of Columbia's Musical Theatre program, said it is not surprising that the show is a hit, especially among younger fans.
"It is sold out for a reason," Byrum said. "To [get inspiration] from an old white guy on the $10 bill and make it look like America today—it's easier to identify with when you see yourself [working] on stage."
Hamilton has also made headlines for its unique take on history. Miranda's diverse cast and use of hip-hop-inspired music for a show about the nation's Founding Fathers has inspired a new generation of musical theater fans. 
Miranda previously won recognition in 2008 with his Tony-winning musical "In The Heights." As a 36-year-old Puerto Rican rapper from New York, Miranda has inspired theater fans to follow in his footsteps even more with the success of "Hamilton," Byrum said.
"Every student who talks to me about this [musical] asks, 'How do I become him?'" Byrum said. "It's so inspiring for them and exciting for us because there's this whole new generation [of people] who find a place in musical theater."
"Hamilton-mania," as many have called the widespread obsession with the musical, is not limited to the stage. The show's cast album has attracted fans who may not usually listen to musicals, said Khalehla Rixon, who hosts "Hamilton The Podcast" with fellow fan Brittani Nichols. The Los Angeles-based duo focuses on a specific song from the musical's album in each episode, Rixon said.
"I was talking about 'Hamilton' to anyone who would listen to me, and a lot of those people were getting annoyed because they weren't as obsessed with it as I was, except for Brittani," Rixon said. "We started having these text conversations about 'Hamilton.' One day, I texted her, 'Why isn't there a podcast about 'Hamilton?' And we pretty much went from there." 
Nichols said the show has a wide appeal because of its distinct style of blending old-school hip-hop and show tunes.
"There's a song for everyone, whether you're into pop music or hip-hop—it's all there," Nichols said. "A lot of people take for granted how wide of an audience [hip-hop] has, and that was a big draw for any person to hear an album with really good rap music."
Grace Schwartzenberger, a Second City box office employee who purchased a ticket for the upcoming Chicago performance as part of a group of 19 other fans, the only way tickets for the show were pre-sold, said she thinks the show's broad appeal will positively affect the theater community for years to come due to its crossover appeal and diverse casting choices. 
"A lot of people don't make those bold choices because they're sitting on a history of plays done a certain way," Schwartzenberger said. "The fact that this play has helped change that and the amount of success it's had is really going to make people more comfortable doing shows like this in the future."