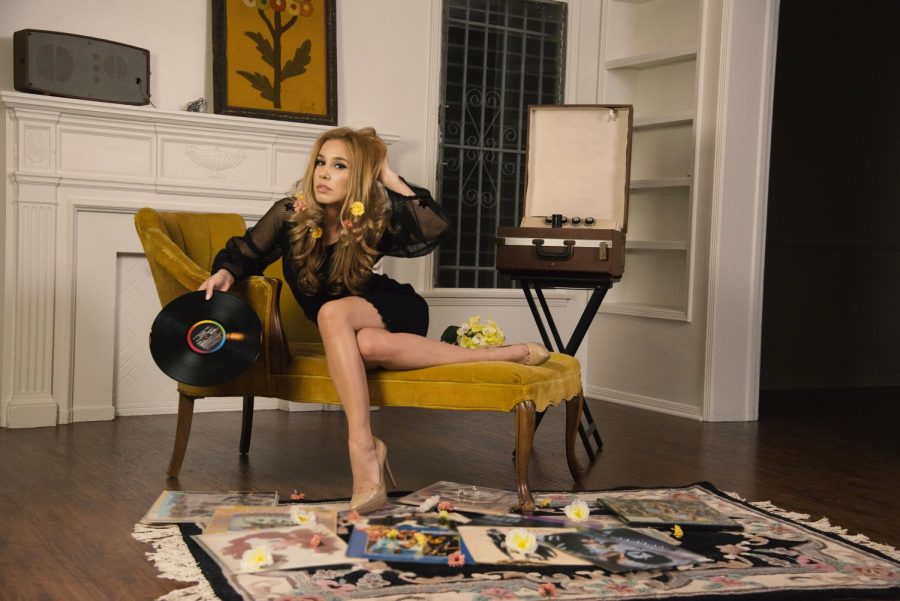 Courtesy Monika Lightstone
There was never a doubt Chicago-native Haley Reinhart would follow in her parents' footsteps after growing up in a musically talented family. After Reinhart climbed onstage at 9 years old to perform alongside her parents' rock band, Midnight, her passion for performing grew. 
At 20, the singer earned a spot on "American Idol's" Season 10 and finished in third place. This led to her debut album, Listen Up!, in 2012. Her 2015 rendition of "Can't Help Falling in Love"—first recorded in 1961 by Elvis Presley—on her second album, Better, cemented her status as a pop princess.
For her third album, What's That Sound?, released Sept. 22, Reinhart put a personal twist on 11 classic '60s songs and introduced three original tracks. Reinhart will be performing her songs Nov. 5 at Lincoln Hall, 2424 N. Lincoln Ave.
The Chronicle spoke with Reinhart about her album, her Netflix show "F is for Family" and life after "American Idol."
THE CHRONICLE: What was it like performing with your parents so young?
HALEY REINHART: It was a thrill, and it put a lot of things in perspective. I was super emotional after I performed and overwhelmed with pure joy. I knew in that moment, and even prior to that, this was something I wanted to do and take it as far as I could. I am thankful to have watched my parents, who are still happily married, not only make it work but have it be their passion and make their band, Midnight, and other groups live on.
Do you think those experiences shaped your music style today?
[Songs my parents listened to and performed] have always been my favorites growing up, and that is how this record came about. It's a family affair. I got them to play on [What's That Sound?] as well;my dad is on guitar and my mom is singing background vocals. 
How did you choose what songs you wanted to cover? 
I sat down with the president of Concord Records, who I just signed with recently. We co-produced this record together. It was a very collaborative experience. We also wanted to pinpoint a time when so much was going on in the world and people were standing up for what they believed in. [There was] a lot of peaceful protesting. I felt that time is still so completely relevant to today and all of the craziness that is going on. I wanted to not only shed light on that, but also continue to keep that sense of love and hope intact as we move forward. 
What was the creative process for your three original songs?
I wrote them before I had any idea I'd be making this kind of a record. I looked through my catalog of material, and they were the most recent songs I had written. I had already been living in this '60s vibe, more of a retro sound. I picked out a Tarantino-esque song, another one that has a very Brazilian-pop '60s vibe and a rock song that is a love anthem for today. 
How has your life changed since "American Idol"?
Everything is so different. I moved out to Los Angeles right after the show. Ever since, I have been working hard. This is my third album release and my third headlining tour that just started. I have been doing a lot of voiceover acting. It has opened so many doors and avenues that I would have only hoped and dreamed of. 
Had you always wanted to be on "American Idol"?
I remember being in middle school and getting an award at the end of the year: most likely to be on "American Idol." A lot of signs pointed to that. I got a call from the producers after the first year I had tried out and not made it as far as I would have imagined. They called me back the day before the audition and said, "Hey, we would really like you to come back and try out again because we believe in you." That, to me, was pure fate, and I figured since I am finding out about this the day before, I might as well go. 
How did you get involved with the Netflix Series, "F is for Family"?
They might have heard about me from this other audition tape I did for "The Peanuts Movie." I did a really fun audition. I guess they heard it over a year later, and they told me to come in for a cold read. So I got to meet Bill Burr and cross paths with Mo Collins as I [was] walking in. They told me right away that I got the part. This is my debut in voice acting, and it's neat. I had been a fan of Bill Burr, and now I get to play him as a little boy.  
Have you always wanted to act?
I have always wanted to act. I've always been doing crazy, weird, funny voices, so it's no surprise to my family and friends. It's kind of like a dream. I didn't know I had the potential of making it happen, and I'm really glad that it's found me this way. 
Who do you look up to in the music industry?
Paul McCartney is probably one of the biggest inspirations to me because he has held it together over the years, and he's so composed and gracious with people. His voice is completely intact, [and] he sheds light on things and is completely professional—not to mention his musicality in the way that he writes and sings so differently from one song to the next. I'm such a massive fan. 
What was it like taking your own twist on "Can't Help Falling in Love"?
I got approached [by] Wrigley's Extra Gum and an ad agency. They [said] "Hey, we've gotten a bunch of submissions for this, but I really want you to try out." I got in the studio right away, and I brought my friend Casey Abrams with me to play keys on it. I saw the commercial and shed a tear like everyone [else]. I was like, "Now I know how I need to interpret this song, that I need to make it super intimate, loving, gentle and soft." I knew people would love this commercial and hopefully like the song, but I never thought it would organically get to radio and then get a gold record out of it.
How do you prepare for a show?
I like to try to rest my voice, warm up with my interesting mermaid sounds [and] have some hot tea with a little honey. I try to make it as nonchalant as possible because it's a very natural thing. As soon as I hit the stage, it's so much fun, and I constantly [get] reminded why this is my passion.
What is the most exciting thing about coming home to perform this album?
I'm so excited to invite a lot of family and friends and the people of Chicagoland that have supported me over the years. I'm hopefully going to get my parents to get up on stage too and help me pay homage to these great artists and [my parents] as well. [I want to] give back to my city. I'm so thankful to have had people there that have been so supportive, and I want to continue to make my mark there.