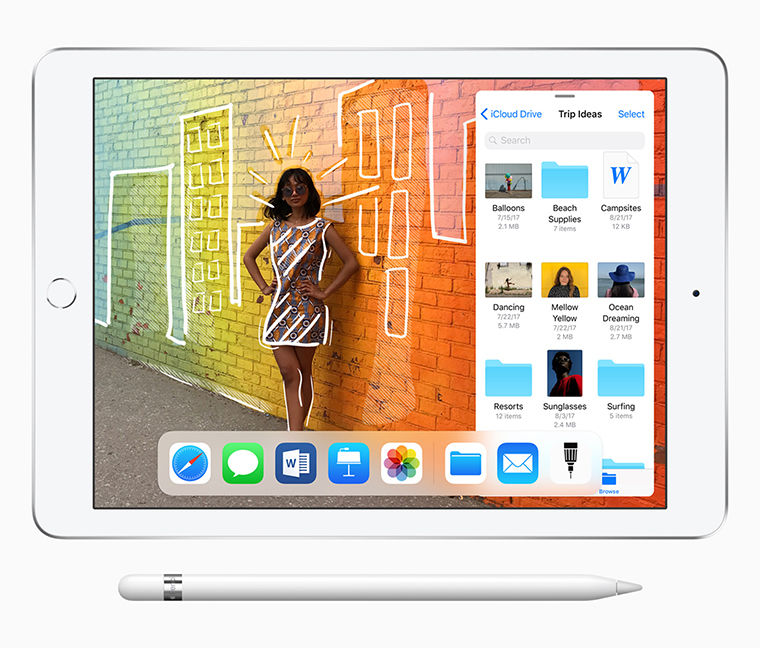 Courtesy Apple
It wasn't a pep rally or a talent show that had the auditorium of Lane Technical College Prep High School packed to capacity March 27. Instead, it was a man in a dark purple sweater and a striped tie pointing at a screen behind him announcing the release of a new iPad. 
Apple CEO Tim Cook introduced the company's new product, a new 9.7 inch iPad that has support for Apple Pencil. This new iPad is available for $299 for educators and $329 to the general public.  Cook also emphasized the crucial relationship between technology and education to a room of hundreds of teachers, reporters and guests. 
"Education is such a big part of who we are as a company," Cook said. "We believe technology can help teachers deliver a unique and personalized learning experience to all kids." 
Apple demonstrated this philosophy in December 2017, when it teamed up with Chicago Public Schools and City Colleges of Chicago to offer coding opportunities to nearly 500,000 students. 
It also announced in a March 28 press release that it will be expanding this program in collaboration with Northwestern University and CPS. This collaboration will establish a Center for Excellence at Lane Tech, 2501 W. Addison St., that will serve as a hub where teachers can become familiar with Everyone Can Code, Apple's user-friendly coding program.
According to a March 12 Columbia news release, Columbia is the first college in the Chicagoland area to offer online courses that feature Swift, Apple's programming language. 
According to Dekker Dreyer, course author of Columbia College Chicago Online's "Producing Augmented and Virtual Reality Experiences" course, knowledge of coding will soon become an essential skill. 
"[In the future], we are going to require everybody to have a basic understanding of, if not coding, at least how coding works," Dreyer said. "Having that base level understanding in the next 10 to 20 years is going to be as fundamental as knowing how to use a spreadsheet." 
At the March 27 event, Apple announced forthcoming products and apps geared to the educational market. 
Greg Joswiak, Apple vice president of iPod, iPhone and iOS Marketing, noted that the new iPad has an A10 Fusion chip, giving it greater processing power than most PC and Mac products, Joswiak said. The Apple Pencil, a stylus-like device that lets users draw and write directly on the iPad, was previously only available for the iPad Pro. According to Joswiak, its availability on this budget iPad will let students easily take notes on their devices.
Upgrades to Apple's iWorks apps—Pages, Keynote and Numbers—will also support Apple Pencil. An upgrade to Pages called Smart Annotations will make digital grading easier for teachers. The annotations made by teachers with this upgrade will not just be a superficial layer of ink, Joswiak said, but will instead be permanent marks and changes made to the documents. 
According to Susan Prescott, Apple vice president of Product Marketing, a new offshoot of Apple's Everyone Can Code program is being released, called Everyone Can Create. The program, currently available for preview with more content planned to be made available this summer, is meant to develop skills in music, video, photography and drawing. 
"[This is a] program designed around the idea that technology can unleash kids' creativity and creative genius in the classroom," Prescott said. "We believe Everyone Can Create will develop and discover new skills for kids, and we can't wait to see what they do." 
The Classroom app, which lets teachers monitor students' activity on all iPads being used in the classroom, is being brought to Mac in June, so teachers can keep tabs on their students from their desktop, Prescott said. A new app called Schoolwork is also being rolled out, which allows teachers to make handouts, send reminders and assign students to specific activities within specific apps that they want completed.
Joswiak said a new feature called Shared iPad will allow classrooms or schools that have students share a pool of iPads to still have a personalized experience. Shared iPad will allow iPads to have multiple logins via multiple Apple IDs made for the students. Apple is also drastically increasing the amount of free storage available from 5 gigabytes to 200 gigabytes for educational Apple IDs. 
"We believe that our place at the intersection of technology and liberal arts makes it possible for us to create powerful products and tools that amplify learning and creativity," Joswiak said, 
To Dreyer, these new services are a step in the right direction.
 "These devices are becoming integral parts of how many artists in the industry create," he said. "Apple's announcement will have a huge impact on getting industry leading tools into the hands of the next generation of makers."