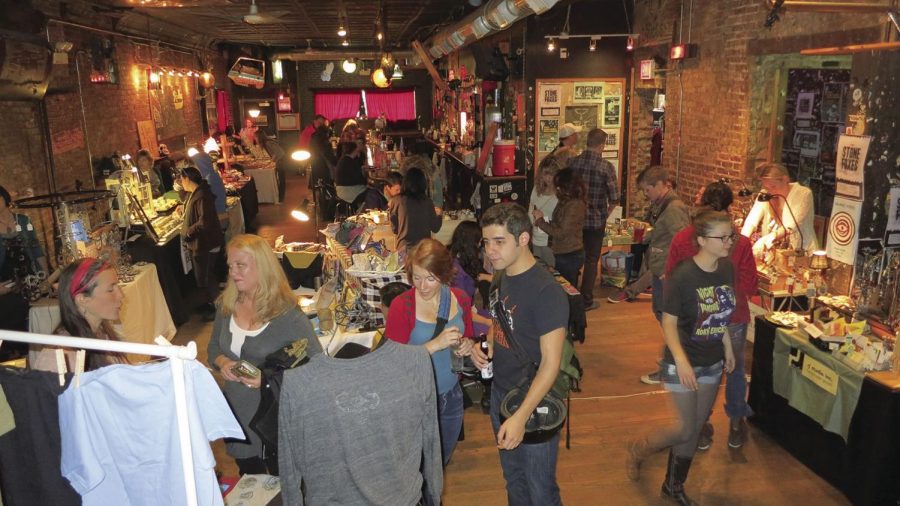 COURTESY HEATHER FLETT
For Chicagoans, the Handmade Market is a one-stop shop for handmade and ethically-sourced goods.
The market is held at The Empty Bottle,   1035 N. Western Ave., which is generally a live-music venue, organizer Heather Flett said. For each event, the space is transformed to accommodate selling spaces for 30 handmade artists, she added.
The market is held monthly from October through December and twice a month from January to April. It is open from 12–4 p.m. on Saturdays. 
As the name suggests, everything sold at the Handmade Market is handmade.
 "We don't do resale or fair trade," Flett said. "It has to be something you are making some considerable modifications to from the original source. We prefer local vendors."
The market, started in 2005 by Erica Coslor, has a low entry cost for sellers to participate, ranging from $35-$40.
After about a year, Coslor moved to New York City, and Flett—having been connected to the market since the beginning—took over and has been the sole organizer since.
Lauren Cornell is a seller for Handmade Market. Her business, Think Unique, began in 2012 and is a jewelry and wellness lifestyle brand. She creates crystal and aromatherapy jewelry and meditation tools.
According to Cornell, the next market will be held Feb. 24, and Think Unique will be participating.
"It's a really great event," Cornell said. "If you're local to Chicago or even in the near-Midwest area, it's a great way to get exposure. It's a casual environment. It's not one of those big, high-stress markets. It's a very laid back, enjoyable time."
In addition to her work, Cornell said one can find all sorts of things, including hand-poured candles, food, crocheted items, stickers, handmade wood furniture and more.
Like many artists, she said her love for handmade items began young.
"Since I was a little girl, I've been drawing, working with clay [and] making things constantly," Cornell said. "As I've grown up, I've evolved into different avenues for creating things."
Junior illustration major Courtney Cusack currently sells her art online on Etsy. Cusack's brand, Cardinal Crowns, sells prints and stickers of her digitally-painted artwork. While Cusack has not sold at the Handmade Market, she has sold in-person at conventions and finds the experience to be beneficial. 
"Etsy is a solo adventure versus the interactive element that a markeplace offers," Cusack said. "I'm doing the selling and [using] my ability to convince them to buy something. I can only convince so much digitally for people to buy my stuff. I really enjoy the market aspect of it because it allows me to interact with my audience."
Flett added that the venue serves alcohol and also has a restaurant attached, which creates an easy way for the market to become a destination.
"It's a nice way—especially in the winter when there's not much going on in Chicago—to make an afternoon of it," Flett said. "Come, get some brunch with a couple of friends and then check out some  local art. It's a good way to support folks who are doing local art and to understand where what you're buying came from and how it was produced ethically and locally."