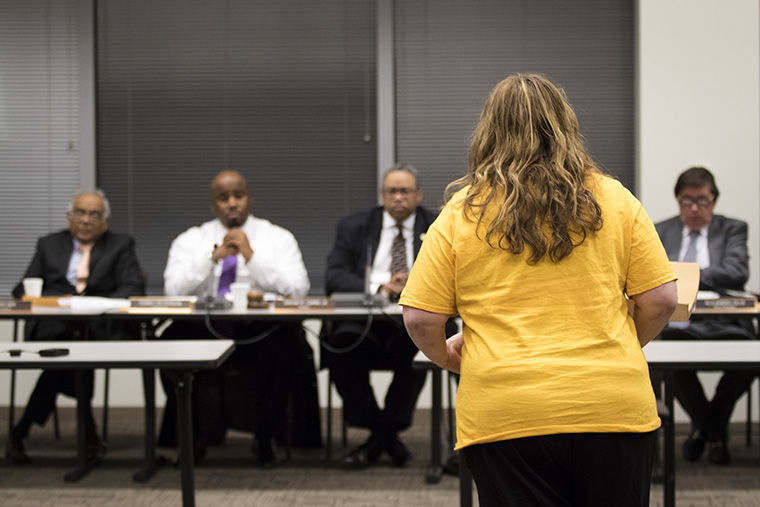 Santiago Covarrubias
Local groups advocating the return of certain axed Chicago Transit Authority bus routes declared victory Nov. 18 after the Transit Board approved its 2016 budget.
The approved $1.48 billion budget was recommended by Board President Dorval Carter, Jr. and includes a pilot program to bring back the routes.
Carter announced the CTA would launch a pilot program reinstating two previously eliminated bus routes, the No. 11 along Lincoln Avenue and the No. 31 along 31st Street, according to CTA spokesman Jeffrey Tolman.
The Transit Board made no previous indication it would restore the routes, but residents and elected officials have actively lobbied the board to bring the routes back.
"[President Carter] had conversations with elected officials and community members about the No. 11 and No. 31 bus routes," Tolman said. "After engaging in those conversations and discussing possible options, [he] decided the CTA would conduct a pilot test of service in 2016 on the two routes."
The pilot will begin this spring, but few other details are confirmed, Tolman said. CTA officials have yet to finalize specific routes, locations of stops or how long the pilot will last before a permanent decision is made.
Dozens of advocates wearing matching yellow shirts requested the routes be restored at a public forum Nov. 16 at CTA headquarters, 567 W. Lake St., which included all eight members of the Transit Board and various other high-ranking CTA personnel.
Alderman Patrick Thompson (11th Ward) spoke in favor of restoring the No. 31 route and said the areas served by the route have changed dramatically since its elimination in 1997.
"It's been many years since [the 31st Street] bus has run, but there's been a lot of change in our community," he said. "The city has invested millions of dollars rebuilding our lakefront…. I think it would be a great attraction for many."
One group that actively lobbied for the No. 31 bus route was the Bridgeport Alliance. The group's president, Ruby Pinto, called the news both "surprising" and "exceptional."
Residents advocating for the restoration of the No. 31 route worked with North Side residents who, led by Alderman Ameya Pawar (47th Ward), fought to bring back the No. 11 route.
"Forming this coalition with the North Side allowed us to make this a city-wide issue," Pinto said.
Residents of different neighborhoods are often pitted against each other but should band together more often to demand better public resources, Pinto said. She also praised the Coalition for A Better Chinese American Community for its involvement in advocating for the bus routes, as many potential riders are Chinese-Americans who speak little or no English.
The budget does not raise fares or cut service, but it restores express service on Ashland and Western Avenues, continues existing capital improvement projects and predicts a $2 million increase in revenue from advertising, charters and concessions.
The budget assumes state funding will remain at 2015 levels because the state legislature has not yet passed its budget, though Gov. Bruce Rauner's proposal would slash nearly $130 million from the CTA's coffers. It is unclear how state budget cuts could affect the CTA, but residents at the forum expressed concerns that statewide cutbacks would result in fare hikes or service cuts. Transit Board members declined to comment after the forum.