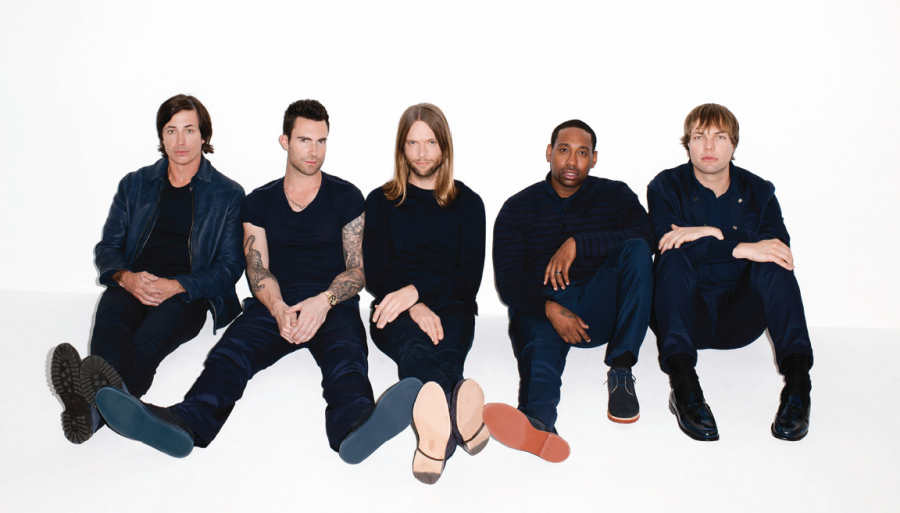 BEFORE MAROON 5 began its Feb. 10 Grammys performance alongside Alicia Keys in front of millions of worldwide viewers, guitarist James Valentine was shaking backstage. "It's always really nerve-wracking to play the Grammys," Valentine said. "Because not only is it live TV, which can always be a little scary, but you're also performing in front of a room full of your peers—and not only your peers, but your idols." 
Though the band has had numerous sold-out shows and Grammy nominations, 2013 has been one of the most successful years for Maroon 5. Its world tour, complete with its and light shows for their fifth studio album "Overexposed," released June 2012, is its largest show yet, Valentine said. Forming officially in 2002 with its debut album "Songs About Jane," the pop-rock-meets-neo-soul group Maroon 5, comprised of Valentine, vocalist Adam Levine, keyboardist Jesse Carmichael, bassist Mickey Madden and drummer Matt Flynn, has since released four platinum albums with Billboard chart-topping songs such as "This Love," "She Will Be Loved" and "Makes Me Wonder." 
The Chronicle sat down with Valentine to talk about the band's world tour, songwriting and his long locks. 
The Chronicle: What has your world tour been like? 
James Valentine: It's been great. In a lot of ways, I think it's the biggest tour we've ever done, in terms of the audiences, the places we're playing and also our shows. We're bringing around these huge video screens and lights and lasers, and it's just bigger than anything. We're having a blast so far. 
What was it like performing at the Grammys? 
I was really happy with the performance. We've done the Grammys a few times and I think I was happiest with this performance. I think the combo of being up there with Alicia Keys was also very special. 
What does your songwriting process look like? 
It's kind of all over the place, especially lately. Up until "Overexposed," we've always just written songs as a band, usually in a process over about a year before the release of a record. But for this album, we were working with other writers and collaborating with other producers. We've actually become much more prolific lately, and we're already working on our next record. 
Do you record new music while you're on tour? 
We're continually recording, writing [and] coming up with new ideas on the road. We owe a lot of that to technology as well. It's a lot easier to collaborate with people who aren't physically there with you. We can email files back and forth and we can actually make pretty high-quality recordings in our bus or backstage or in our hotel room, so that's pretty cool. 
Do you ever get sick of hearing your own music? 
No. I never get sick of it. It's always pretty entertaining to me to hear it when it comes on. And I guess I also mostly listen to public radio when I'm in my car. They don't play us a lot on NPR. [laughs] 
What's different about your new album, "Overexposed"? 
On this record, we were very open to exploring very contemporary sounds, really in the more dance-oriented side of things. We were also having a lot of fun with synthesizers and more electro textures, which was new for us. We always have to keep things fresh to stay excited. 
Is it important to have long hair as a guitarist? 
Absolutely. I've had this hair now for a long time, and I don't think I can cut it. It's such a part of my identity and I think it's important for one of us to rock the "classic rocker" look. I'm flying the freak flag within Maroon 5. 
Maroon 5 will play the Allstate Arena, 6920 Mannheim Road in Rosemont, Ill. on April 6. For more information, visit Maroon5.com. 
eornberg@chroniclemail.com